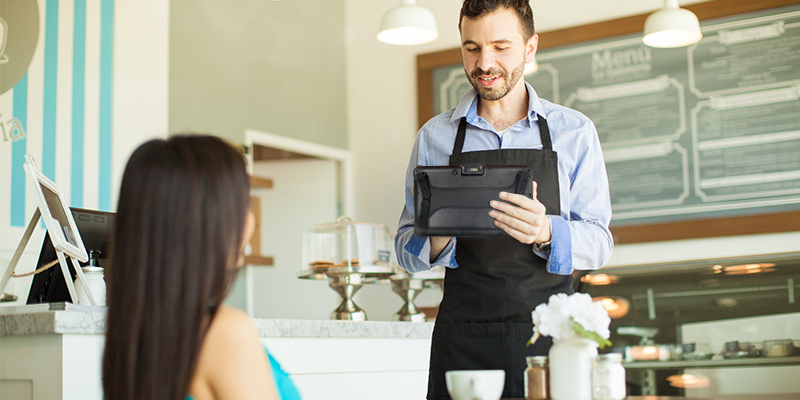 A study conducted by Emerald Insight found that out of all the aspects of a restaurant, customer satisfaction was influenced most by the responsiveness of the frontline employees. This group is made up of the hostesses, servers, and bartenders — they are the individuals who directly serve and interact with the customers.

While this is no surprise, it does highlight how important it is to have the seating, serving, and paying process run smoothly for customers, and a huge part of that is supplying frontline employees with efficient technology that helps them stay organized and do their job to the best of their ability. An employee never wants to mess up an order or keep a customer waiting too long for their food or drink, but without sufficient organization and communication with the hostesses and the kitchen, that can happen.

The current set-up for the majority of restaurants is a laminated layout of the restaurant that can be marked on the desk of the hostess station, or if lucky a stationary computer, and order notepads for the servers as well as physical checkbooks for the customers to put their payment in. This mostly paper system of seating, taking orders, delivering orders to the kitchen, and payment is outdated and allows for many opportunities to make mistakes and for mishaps to occur — especially in regards to at-table ordering.

The update that is needed to keep restaurants operating smoothly and increase customer satisfaction is the employment of DT Researchs POS Tablets.

7 main features of DT318CR rugged tablet that benefit restaurants

Brilliant 8 capacitive touch screen

The perfect size for at-table ordering, the 8 capacitive screen of the DT318 rugged tablet makes inputting customers orders simple, even with big tables and lots of order customization. With this moderately-sized touch screen, its extremely easy for employees to type, write and input the correct information on it while still holding it comfortably.

Slim and lightweight

Coming in at just 1.7 pounds, the DT318 is lightweight, allowing it to be easily carried around by hostesses and servers without becoming a burdensome piece of tech or feeling too heavy to continue using. Employees can continue to use it on-the-go throughout their entire shift. Whenever a customer is ready to place an order or make a payment, the rugged tablet will be there, in-hand, to complete it. If the party is sitting at a big table, the server can easily move around the table with the tablet in-hand and connect with each customer while taking their order.

Durable packaging

With extremely durable packaging, the DT318 rugged tablet is a purpose-built tablet for daily handling. With rugged tablets, you have technology that is prepared to withstand everything your employees do such as a tumble to the floor every now and then or the accidental spilling of food and drink. With this durable tech, you can ensure that you will not lose your investment when a mistake happens. Water-resistant and drop-protected, your rugged tablet will continue to function at 100% capacity keeping both your employees and your customers happy with efficient and constant service.

2-in-1 design

DT318s 2-in-1 design means that it can operate as both a mobile point-of-service/sale device as well as a fixed POS terminal while docked in a cradle which allows it to be efficiently used for both hostesses and servers. With this, its the best of both worlds and restaurant owners do not need to buy different kinds of devices for different positions in the business, having them all connected provides a benefit too.

Chip-and-signature card reader, magnetic stripe reader, and barcode scanner

An important part of high-quality at-table service and customer satisfaction is an easy payment process. With rugged tablets, servers can let customers make their payment as soon as theyre ready to and without the server having to whisk their credit card away to a stationary computer in the back – reducing the time it takes to turn the table and seat another customer. Installed with a chip and signature card reader as well as a magnetic stripe reader and scanner, rugged tablets can accept cards as well as process coupons or gift cards that the customer brings with them. This no fuss and no confusion payment process is a key element to customers leaving the restaurant happy.
Additional but transformative benefit for business: faster turnover

A quicker seating, ordering, serving, and paying process means the restaurant will have faster turnover and make more money each day. The faster employees can efficiently serve customers, the more tables they will be able to sit every hour before the restaurant closes. Imagine the economic growth that increases the number of people served in a day can bring to a business. The capabilities of the DT318 can help restaurants achieve that.


Each aspect of design in the DT318 rugged tablet is a match for the needs of frontline restaurant employees and was created with the goal of helping restaurants achieve higher customer satisfaction and increased economic growth.