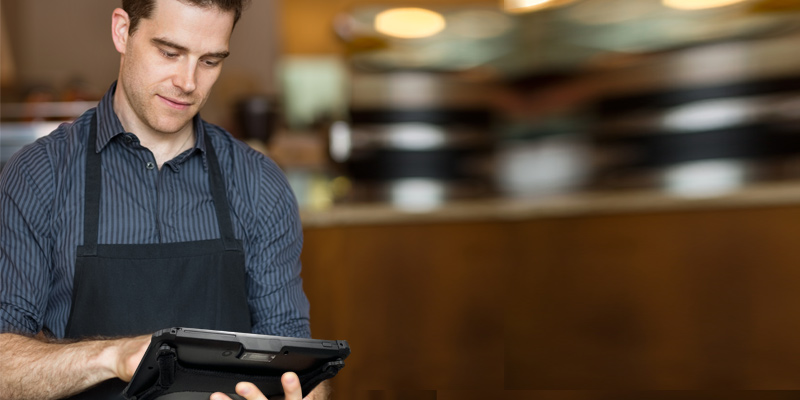 Sleek, modern design, lightweight and durable. DT Research rugged tablets give solutions to enable hospitality industry staff to streamline tasks, more efficient inventory, and improved customer service. Many tablets used in the hospitality industry are off-the-shelf, consumer-grade tablets that if dropped or spilled on will require replacement. A tablet is not just a tablet when it comes to the hospitality industry. Restaurants, retailers, and cruise ships need their employees to be equipped with rugged tablets that are built for their environment.

Demanding conditions should not hinder employees and management from doing their job efficiently and effectively. Limiting productivity by having a down tablet can cause severe delays with customer ordering, food running, and inventory checks, leaving customers with an unsatisfied consumer experience, ultimately hurting the business. According to a VDC research study, mobile workers lost an average of 52-80 minutes of productivity when their mobile device failed. Consumers expect to have great experiences when they go out to eat, shop or take a trip, they expect fast service and friendly staff. The less stressed employees are at doing their job, the better overall experience they can provide to customers, thus increasing return business and growth.

We took our knowledge and expertise in manufacturing military-grade tablets and applied it to new sleek models built for hospitality industries. Built tough for harsh environments, our tablets withstand fast-paced environments such as restaurants, where tablets will be dropped, liquid spilled on them, and they may be laid next to hot grills or taken into the freezer rugged tablets for hospitality can handle a drop of up to four feet and are made for extreme hot and cold temperatures.

Cost-effective for business environments, rugged tablets for hospitality are a great addition to any team. Durability is not the only factor we considered when designing these tablets, improving worker productivity is crucial in busy environments such as the lunchtime rush, our tablets improve productivity by streamlining mobile data capture, storage and transmission within a lightweight device, making it ideal for food ordering, tableside check-out, mobile check-in and efficient inventory management.

Inventory management is a time-consuming function of hospitality that must be done. Rugged tablets for hospitality make inventory management easier by coming with Microsoft Windows 10 IoT Enterprise OS enabling seamless front and back-office application integration with advanced Windows 10 security. Updates and notifications are sent across the network when a food item is running low, allowing managers to track and order inventory as needed. Real-time communication of inventory on hand helps to drive down operational costs by allowing team members and management to make data-driven decisions based on tying orders to inventory.

Dont settle for consumer-grade tablets that breakdown in rough environments, improve the productivity and efficiency of your team by equipping them with durable tools that help them do their job better. Little to no downtime during busy hours, with DT Researchs signature hot-swappable battery design that enables the tablets to operate continuously and improve user productivity. If youre looking for technology that answers your needs, we have the solution.