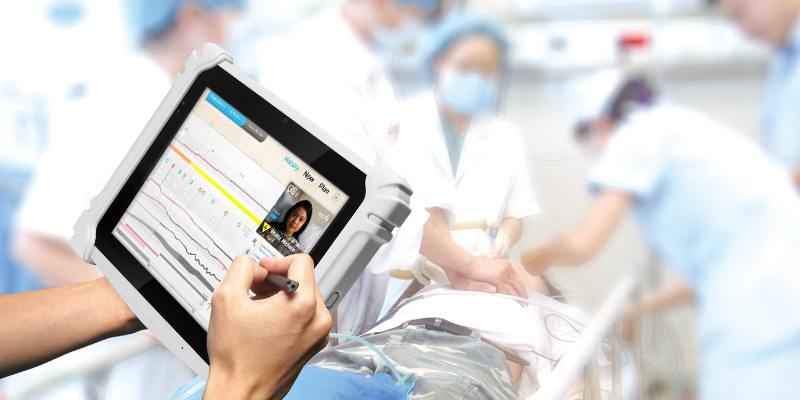 What are three words you would use to describe a medical professionals job?

We would say: on-the-go, fast-paced, and flexible.

As a medical professional, no shift is easy and no shift is the same. Doctors, nurses, technicians, and other related professionals are in high demand and on the move from the moment they walk through the doors.

Twenty years ago, medical professionals carried around stacks of paper and documents containing all the patient information needed. Luckily, the industry has now gone digital and increased the level of convenience for related individuals.

Expanding upon whats already been done as well as forging a new path for a beneficial relationship between nurses and tech, DT Research created a portable medical tablet that takes computing technology for the medical industry to the next level.

Here are the top reasons why DT Researchs medical cart tablets exceed the previous tech in the market:

#1. Smaller and Lighter

In the medical industry, there are a lot of technology devices that by nature have to be quite large, but the nurse's personal tablet doesnt have to be.

Over the years crafting tech for this industry weve found that the smaller and lighter, the better when it comes to what works best with medical professionals schedule and daily tasks. The easier the tablet can move with them, the better.

This is why we made our medical tablets as slim as possible with lightweight yet durable packaging. This tablet can also be attached to a small stick cart so medical professionals can easily bring it alongside them down hallways, in elevators, and into patient rooms. With the true thinness of the product, it wont be cumbersome nor get in anyones way. A nurse can easily keep it in a patients room next to them without it hindering their interactions with the patients in any way.

Additionally, with the tablet being attached to a mobile cart, it doesnt have to be carried around and the nurse can use it while still using her arms and hands to assist with patient care. Overall, this increases the efficiency of the job by tenfold. Medical professionals can quickly input data as well as access information on-the-go as well as bed-side.

#2. Extended Battery Life

In the past, one of the biggest downfalls of medical tablets and carts is their short battery life consequently, they die on the job and medical professionals having to stop to charge it.

With DT Researchs multi-battery chargers for our all-in-one medical tablet and cart, that issue is eliminated. Medical professionals can utilize their tablets throughout their entire, extremely long shift without the fear of the battery dying nor wasting their precious time waiting for it to charge.

This also increases efficiency as well as reduces expenses when it comes to not having to purchase large batteries.

Along with a long battery life, our medical tablet carts are cordless. This adds to the flexibility of the medical tablet, where it can easily travel from room to room. If that wasnt enough, to charge the tablet there is no need to dock the whole cart the tablet has its own hot-swappable batteries and the cart has a battery holster that can also be hot-swapped to power the tablet.

#3. Flexibility

Medical professionals need to be extremely flexible, especially when theyre job constantly throws unexpected curve balls. DT Researchs medical tablets are equal in flexibility, whether being carried by hand, worn on the shoulder with a shoulder strap, or attached to a slim cart for hands-free use and easy placement.

Medical tablets from DT Research bring a range of accessories to add to their usability and flexibility, meaning no downtime, improved work process, and computing that can go wherever healthcare staff can go.