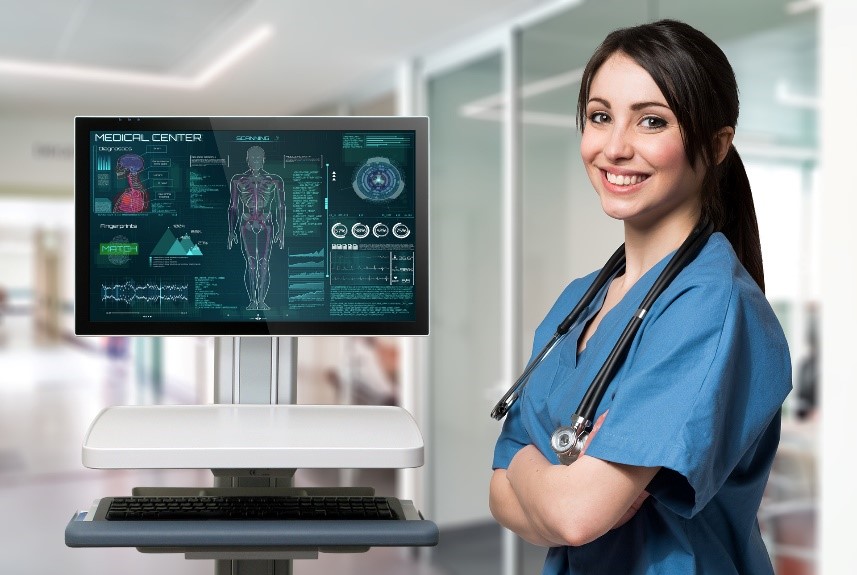 As the demands of the healthcare industry increase, it is crucial that teams have medical equipment and devices that aid their job responsibilities to help them from being overwhelmed by the demands placed on them due to the current landscape.
The development of medical innovations is continuing to change as the healthcare and medical industry evolves. Medical cart computers provide a range of convenience offerings for healthcare professionals in collecting and transferring data, diagnostic testing and updating patient information in real-time. Be that as it may, not all of the devices and gadgets available and accessible on the market are appropriate for such a demanding environment. When choosing a medical tablet computer for healthcare it is important to consider safety, longevity, and functionality.
Patient Registration and Check-in
As part of the healthcare industrys patient-centric activities and initiatives, numerous healthcare institutions automate patient check-in, registration, and health history collection via self-service administration using medical tablets.
Medical tablets streamline patient admissions by replacing paper forms on clipboards while avoiding errors in transcriptions. Some tablets even have the ability to take payments with the latest, secure and encrypted credit card and chip readers.
Best of all, during critically busy times or in-clinic/in-patient floor waiting room settings where space is an issue, the space-saving medical tablets are the less costly and better solution than floor-standing kiosks and booths because they take up less space and are built with durability to withstand longevity for the job.
Safe medication administration at the patient's bedside
As innovations in health care sectors become more integrated to the patients bedside, nurses and medical attendants need equipment that promotes an optimal work-flow process making it easy to treat patients at their bedside, while also aiding the job responsibilities of the medical professional.
Medical cart computers are an all-in-one, slim PC, with a hot-swappable battery feature, and is very easy to mount onto any cart, wall, or VESA arm. The three hot-swappable batteries negate the need for an external power source for the cart, allowing nurses and healthcare providers to become truly mobile, easily moving from room to room while dispensing medications to patients without the need to plug in the cart to recharge. The medical cart computer can be integrated with applications such as Powerchart, a web browser for hospital intranet networks (hospital policies, procedures, MIMs online), PDF viewer and office apps for writing e-medications and patient discharge letters at point of care. Versatile healthcare with electronic ordering and charting are also an example of how medical carts are expanding their usefulness by bringing information and service to the point of care while providing a stand-alone all-in-one device.
Rugged Tablets on Medical Carts
Medical tablets are manufactured with rugged anti-microbial cases that are commonly mounted onto a mobile cart for a variety of patient care applications. With built-in CAC readers, there is additional security, only allowing credentialed employees access to patient files. Both the tablets and carts are built durable to withstand vibration and splashes. The tablets can be used on the cart moving around the floor or easily taken out and carried up the stairs for a wider variety of applications such as medical equipment management and inspections.
Medical cart computers are designed for medical needs, providing space-saving solutions for healthcare specialists to monitor, record and retrieve patient information as well as other point-of-care and medical business functions. The built-in Wi-Fi and Bluetooth connection as well as data capture options also make data access efficient and optimize staff workflow in any hospital or healthcare setting.
The very reason why Hospital Product Australia Pty Ltd chooses DT Research as their single source supplier for their medical cart computers and medical tablets needs.