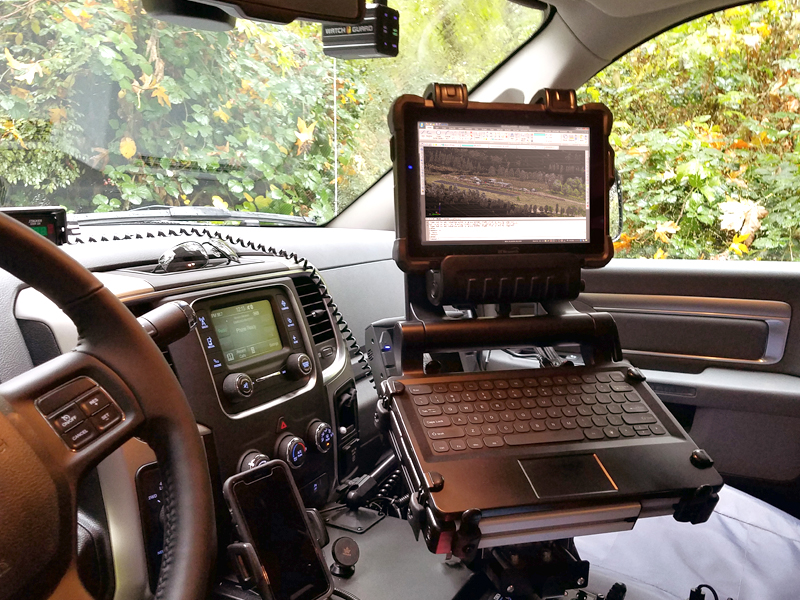 Public safety officials require a portable office that can easily be moved from inside on the desk, to the vehicle, to a traffic stop or accident. Rugged tablets are a lightweight, portable computer that is built to withstand almost any climate or situation. Rugged tablets answer the call of duty for police officers and first responders by being built durable, with a compact design, light enough to carry to a call for documentation purposes.
Rugged tablets differ from rugged laptop computers; tablets are lightweight, non-bulky, easy to carry, and can be mounted in the vehicle or easily carried to and from the office or home. Tablet accessories such as detachable keyboards, vehicle mounts, and cradles create the perfect in-cruiser office ideal for traffic safety, making rugged tablets the chosen portable computer for public safety officials. The tablet, however, does not have to stay mounted in the car overnight, rather it can be brought inside so it is not stolen.
Tablets are equipped with the enterprise-grade operating system Windows 10 offering full functionality on-the-go, with an i7 processor to enhance efficiency on-the-job complete with built-in Wi-Fi and GNSS capabilities. DT Research rugged tablets offer traffic safety a powerful yet energy-efficient computing platform that offers integrated data capture for faster, more accurate collection of information. The 3D RealSense camera can be used to document an issue-prone intersection or record information at an accident scene speeding up the documentation and cleanup of the scene.
Rugged tablets are versatile allowing officers to quickly process citations directly on the tablet through electronic ticketing and scanning of a drivers information. This feature allows information of criminal records to be at the fingertips of an officer during a stop with real-time access to any officer permitted to the network. Tablets reduce the possibility of human error and duplication of work. Rugged tablets automatically log and store the information collected at the scene, reducing the number of hours an officer needs to process information from an incident. Data can be collected and processed from anywhere, with the ability to capture and catalog photos and evidence.
Rugged tablets for traffic safety are built to withstand extreme temperatures and can be used in the rain, snow, or in dusty environments. These portable devices can withstand drops, vibration from the car/environment, and other on-duty hazards. Durable high-brightness capacitive touch screens with full-range lighting offer an option for extreme sunny conditions as well as a dim screen feature for use during the night, making the screen easy to read in all weather conditions. Touchscreens provide easy documentation, detailed drawings, or signature capture.
Rugged tablets are built with a heavy-duty case made of magnesium-aluminum alloy and ABS/PC plastic, with all the features built into a compact, lightweight design that provides superior mobility. Rugged tablets are the chosen device for many public safety officials to increase productivity and efficiency of the job while reducing the potential for error and the need for additional paperwork.