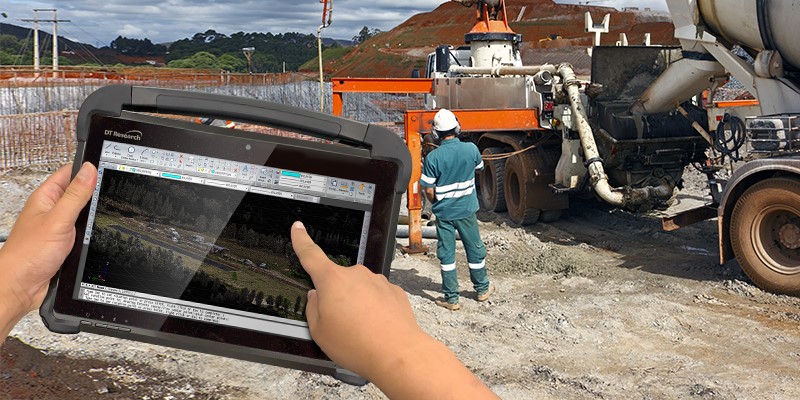 Security at construction sites has been an ongoing need and problem to solve over the decades. Many times, crews need to staff a security guard during off-hours to ensure construction equipment is safe and the site is secure. Now with the advancement of technology, construction sites can be secure without needing a person on-site 24/7.
Rugged tablets are an investment for construction crews that enhance workflow and project processes to create and track the progress of the project. They are built to withstand harsh environments and can be used both in the field and in the office for maximum productivity. Rugged tablets are now available to integrate with drone technology, thus providing a more robust offering to construction crews.
Drones have the ability to detail aerial footage of the construction site documenting progress, aerial surveying and mapping and measurement of excavation depths and material stockpiles. Drones also can now monitor a construction site after hours to ensure the security of the site once crews have left.
Drones offer live viewing capabilities, 24/7 recording of the site, and can be used to investigate potential disturbances. Drones similar to the use of cameras deters intruders, making a construction site less appealing for troublemakers.
Drones integrate with rugged tablets for construction sites thus improving the monitoring and recording of collected data from the drone. The information collected can be accessed in real-time by anyone with secure access to the network.
Teaming up with drones and rugged tablets on construction sites is a win-win solution, offering improved process and project tracking by day and security by night. Both drones and rugged tablets are multi-functional with many capabilities and use for improving construction projects.
Rugged tablets make it possible for field crews to communicate directly with their management team in real-time. Presenting an issue as they arise, communicating parts of the project that have been completed as well as updates to project timelines without ever leaving the job site.
In addition, being able to update information about the project directly to the office in real-time, means accounts receivables and billing can invoice for the various parts of the project as they are completed instead of waiting on inspections and project management teams to report updates.
For construction companies looking to improve their process efficiency and security of the job site, the technology of rugged tablets with drone integration is the solution.