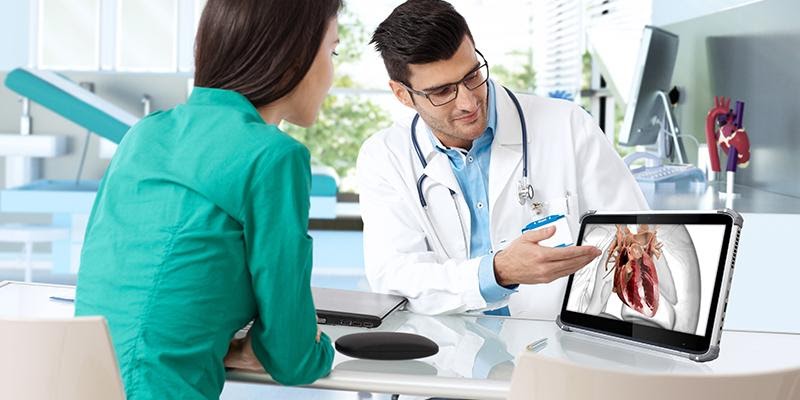 A big game-changer when it comes to healthcare is telemedicine. Telemedicine is a general term that covers all of the ways you and your doctor can use technology to communicate without being in the same room. It includes phone calls, video chats, emails, and text messages. People also call it telehealth, digital medicine, e-health, or m-health (for mobile). Telemedicine in which a doctors appointment is done via phone or video is the new norm as a result of the pandemic and the need for safe distancing. This has been a good alternative during these challenging times when a physical appointment is difficult or hazardous.
With that in mind, DT Research stands ready to help the healthcare industry worldwide with medical cart computers and medical tablets for telemedicine. Medical cart computers for telemedicine make both in-person and remote care more mobile with cord-free hot-swappable battery operation and all-in-one touchscreen design. Using medical cart computers, doctors and nurses have all of the tools they need at their fingertips. Built into the tablet is a front-end and back-end camera that allows them to speak face to digital face with a patient without physically being in the room. Not only does this deliver personal interaction without the risk, it saves providers time that would otherwise be spent meticulously suiting up in protective gear and rigorously sanitizing before and after the interaction.
Many telemedicine solutions require more equipment than just the basics of technology like telephones and computers. Below are a few reasons why DT Research medical cart computers and medical tablets are the perfect solutions:
Antimicrobial
Bacteria can survive on all manner of surfaces. Its not enough to simply have part of the device be made antimicrobial. With DT Research medical cart computer its anti-microbial enclosure ensures that it is fortified against harmful pathogens. Also, its very likely that disinfections will be occurring much more frequently than usual. DT Research medical cart computer antimicrobial properties withstand regular exposure to cleaning materials and scrubbing, while also helping to prevent the spread of bacteria and diseases even in between disinfections.
Fanless Technology
Medical grade computers combat infection in more ways than one. In addition to being antimicrobial, theyre also built to be fanless. Fanless computers prevent infection by reducing the possibility of bacteria being pulled into the computer and thrown back out into the room due to a circulating fan in the back of the device.
Connectivity
Most people have access to basic telecommunications technology, like telephones, internet, and computers. Telehealth relies on this technology to provide optimal patient care. DT Research medical cart computers and medical tablets are blue-tooth and WiFi-ready thus enabling communicating with patients, sending out details to the laboratory, monitoring and collecting patients data remotely, and allowing for real-time communication among staff and healthcare teams.
The health care systems are expected to adjust the way they care for patients and are looking for ways to advance methods that do not rely on in-person encounters. Telehealth plays a key role in providing the care patients need while minimizing the risk of infectious diseases.