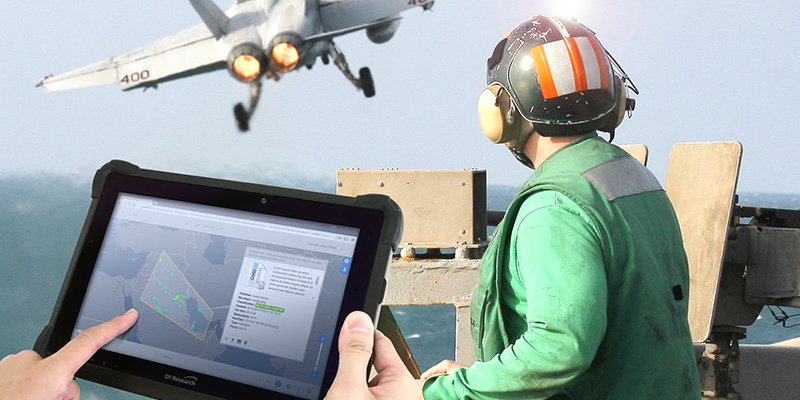 Military personnel has a continuous need to improve the efficiency and productivity of internal operations in order to stay accurate, flexible, and sustainable. As a dynamic, rapidly moving force, if operational efficiency is compromised there could be significant delays and downtime in supplies and inventory. It is crucial to have technology that assists with keeping everything flowing seamlessly in a secure manner.
Every agency of the military faces a critical need to have accurate inventory reporting, visibility capability, and accurate identification of its assets and personnel. With operations that span across multiple locations nationwide (and globally for the military), these agencies face challenges to stay efficient and accurate.
How does RFID technology help to eliminate the barriers created by these challenges? Below are some examples:
Equipment Management
There are lots of assets both in Government and Military agencies. These assets need to be tracked, located, and maintained to ensure loss prevention and efficient usage. Every agency faces specific challenges when looking to effectively manage their equipment. DT Research rugged tablets are integrated with UHF RFID and an embedded antenna that reaches up to 15 feet, and with external pistol grip antenna to reach 30 feet. Military-grade tablets with UHF RFID provide an automated way of locating assets, tracking their usage, and determining maintenance schedules.
Inventory Management
Each agency constantly uses a large variety of inventoried items. From equipment and project tools, identification cards, and licenses, to any inventory moving through the supply chain, each should be managed efficiently and accurately. Locating these items quickly, having real-time visibility of stock levels, or automating the verification process are some of the daily challenges that military personnel face. The DT Research DT362GL tablet was built for the daily tasks of military personnel and is built with a common access card (CAC) or smart card reader that is used as a communications medium between the smart card and a host e.g. a computer, point-of-sale terminal, or network system for easy inventory tracking. Affixing RFID tags to inventory items helps with the automated registration of these assets and provides real-time access to inventory levels and locations. RFID tags can be scanned quickly and data from the tag recorded onto the network, which provides accurate inventory management at all times.
Personnel Management
Ensuring security and attaining peak performance of personnel assets are crucial in the military. The ability to track the availability of staff, know the locations of units, and identify the wounded in field hospitals is of utmost importance. It is crucial for personnel to maintain levels of security when logging information into the network. By assigning RFID badges to every personnel and visitor, their identities can be verified and locations will be pinpointed to provide maximum visibility and security.
Secured Access
For Government and Military agencies, security is the top priority. Securing zones and areas in a federal building or military base is crucial to protecting agency assets. In addition to protecting the property from outsiders, it is also important to have the ability to grant access to various zones to agency personnel who have different access levels. RFID badges given to personnel and visitors allow you to control access to sensitive zones and information within your facility and network. All-access activity is logged into a database to provide your security team with a comprehensive list of reports.
The DT Research DT362GL Handheld Rugged Tablet integrated with UHF RFID reader is the best solution for the military and the government to help improve efficiencies and provide innovative ways to deliver services while also boosting workflow processes in military operations.