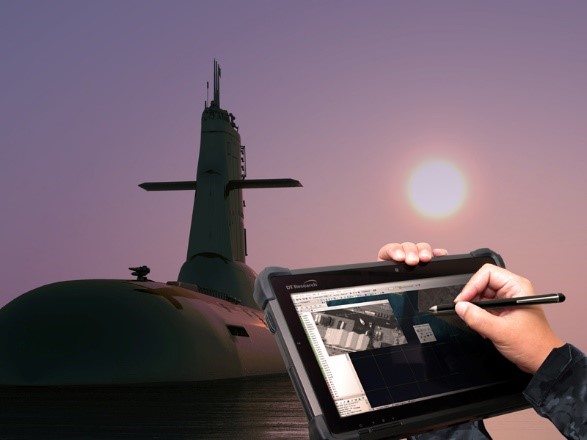 Day to day military operations depends on efficient fleet management to ensure missions, supplies, and personnel can function effectively on a daily basis. Fleet management consists of managing all fleet on and off the base to include maintenance of vehicles, service requests, deployment of fleet, supplies for deployed fleets, and schedules for when they will be sent into the field.
Service Repairs:
Military-grade tablets were built to aid military personnel in improving daily operations and workflow. They are durable, portable, and integrative, allowing military personnel to easily be able to update integrated software systems in real-time so all teams are effectively communicating together as live updates are being made. When a service repair is complete the service team updates that it is finished and the team responsible for deploying the vehicle gets notified immediately so they can work it back into operations.
Supply Management:
Supplies for deployed fleets also need to be tracked and managed. Rugged tablets have a built-in CAC reader and RFID scanner that can scan from up to 1,000 feet away, thus improving logistics on ships out to sea supplies are inventoried on the tablet and can be accessed from the team on land to coordinate needed shipments for deployed ships.
Regular Maintenance Schedules:
Vehicles, ships, and airplanes must be regularly maintained in order to ensure optimal efficiency, the schedules of these need to be tracked and managed to ensure there are enough in the field for missions and operations while others are being maintained. The integrated data capture and software on the rugged tablets makes this simple, yet effective. Schedules of the fleet are tracked, maintenance teams can use a rugged tablet in the shop without fear of dust, vibration, or harsh environments damaging the tablet this allows them to make live updates in real-time so other teams can see the progress of the scheduled upkeep.
In addition, rugged tablets for the military also allow personnel to manage the schedules for the deployment of vehicles so all teams know when a vehicle is in the field, when it is on the base available for use or when it is being serviced.
Military-grade tablets are equipped with additional security features and CAC readers that allow only authorized personnel to access the information that they have security clearance to access. Military-grade tablets are built durable to withstand harsh environments and are multi-functional. They can be used on the base, in an office or in the field. Everything that is needed is built into the tablet to keep from having external parts being broken when used in harsh environments. They are built with durability in mind, so the tablet does not need much maintenance itself. They are portable and lightweight easy for transport.
Military-grade tablets manufactured by DT Research are the militarys choice for mission-critical assignments. Built for the job, tough enough for many environments, and easy to use which improves operational efficiency and day-to-day operations.