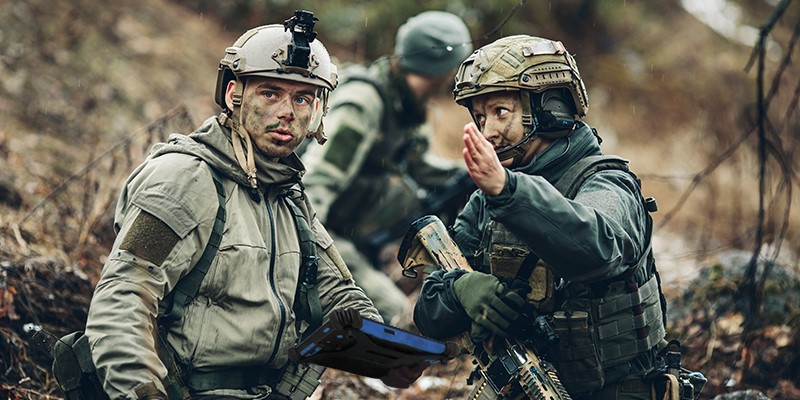 Marines are a branch of the military that is known to be one of the most elite fighting forces in the world. Deployed to some of the most intense and serious situations in the world, on US Navy ships, to protect naval bases, to guard US embassies, and to provide quick force to protect US interests in the world.
TheMarineCorps operates many major bases, 14 of which host operating forces, support and training installations, as well as satellite facilities. Tracking the deployment of troops can be a laborious task for those responsible for knowing where troops are at all times. With so many locations for marines to be deployed to, knowing where troops are needed, where they currently are and when they are scheduled to be on leave is crucial for keeping the operational flow.
Military-grade tablets simplify the process of tracking deployment schedules while allowing teams to communicate in real-time. Rugged tablets are built with durability and portability in mind and can be used on the base in a variety of operational uses, they can also be taken in the field and used in harsh environments. They are ratedIP65,MIL-STD-810G,and MIL-STD-461F for use in tough conditions such as high vibration applications, dusty or sandy conditions, and are also water-resistant. Rugged tablets can be dropped from four feet and survive the drop with no problem.
Military-grade tablets can integrate with software systems that make it easy to track servicemen and women who are deployed or scheduled to be deployed. Thus, improving the efficiency of the operational process. Documentation and paperwork are digitized so anyone with security clearance can access the files and schedules in real-time. Streamlining deployment schedules is crucial for operational flow, knowing where and when servicemen and women will be deployed or are deployed to specific locations, provides real-time data on how many are available for missions or crisis situations, the duration of the stay, and the roles/responsibilities and tasks they are completing while deployed.
Rugged tablets make it easy to track all of these items by digitizing the paperwork so it can easily be accessed at any time, while also aiding in the process of coordinating the logistics of deployment.
Rugged tablets are built to withstand harsh environments and can easily be taken from the office setting into the field. Built-in GPS capabilities easily track the mobility of troops when using a tablet in the field for missions. Lightweight enough to be carried while also portable enough to be mounted in a vehicle or taken back to the office.