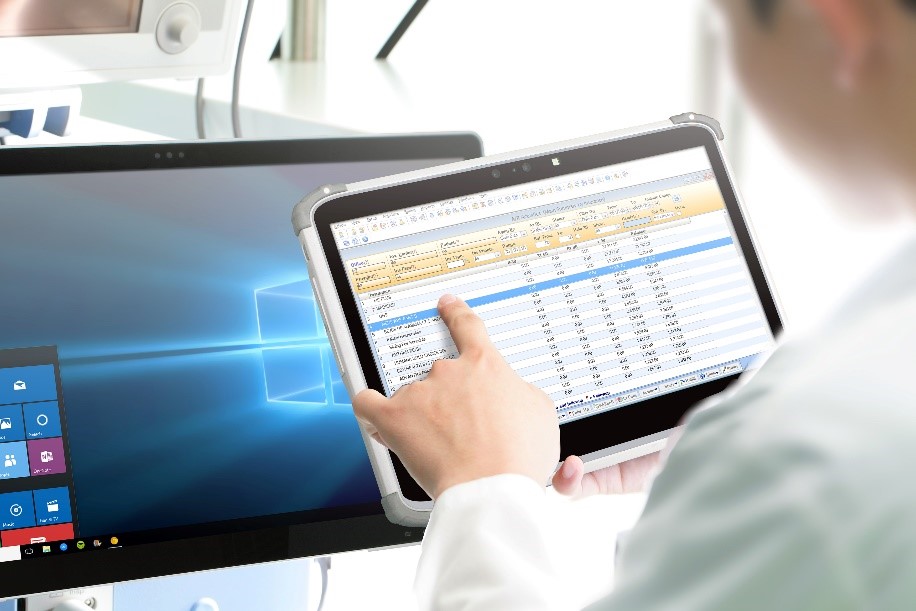 As flu season quickly approaches, pop up testing sites are in high demand to ensure we are ready to face the season. Because we are currently in a pandemic, testing for the flu is even more important this year than in previous years. Many people will want to know early on if their symptoms are related to COVID or are those of the flu.
Pop up testing sites require additional personnel, efficiency at the site, and innovative ways to reduce the spread of infection. Medical tablets answer the need in many ways by offering a mobile, lightweight solution to allow personnel at popup testing sites the portability they need to move from station to station, to easily and efficiently collect patient information, and to process documents. Documents are stored digitally from the start so patient information doesnt have to be transferred from paper to computer at a later time.
Efficiency and Speed
Medical tablets improve the processing of patients at mobile testing sites by allowing personnel to operate on the same network. Each team member can use a medical tablet to enter the patient data, collect symptoms and insurance information, and record testing data. By providing each team member with a medical tablet in hand, it speeds up the time it takes to move a patient through each workstation. Tablets are equipped with CAC readers for additional security, thus only allowing personnel with the appropriate security clearance to access patient records. Patients will flow through each workstation with ease, improving the patient intake process, and recording information digitally so there is no risk for lost data and patient information during a transfer from paper to computer.
Antimicrobial Enclosure
Medical tablets are manufactured with an antimicrobial enclosure which reduces the spread of germs, bacteria, and infections. Perfect for a mobile testing site where the risk of spreading infection is high. Tablets can be used by multiple people without the risk of spreading germs, as the antimicrobial agent in the enclosure kills microorganisms on contact.
Mobility
Medical tablets provide the perfect combination of a computer for processing patient information in a portable, lightweight tablet that is built for durability and mobility. They can easily be carried from workstation to workstation, and they are lightweight enough to carry throughout the day but can also be docked on a slim cart. Medical tablets are accessible and make it easy for personnel to be mobile as they may need to be responsible for different duties throughout the day.
Medical tablets are the solution for popup testing sites as flu season arrives. They provide staff with a durable option for processing patients efficiently with accuracy and speed. There is little downtime to enter data in between patient visits. Information can be accessed from multiple tablets in real-time thus improving communication between staff members. Medical tablets are built with security and durability in mind, they will not break if dropped, each piece of needed data capture is built within the tablet to eliminate points of failure. Medical tablets are lightweight enough to be carried, strong enough to withstand nonstop use, and powerful enough to assist personnel and improve internal processes.