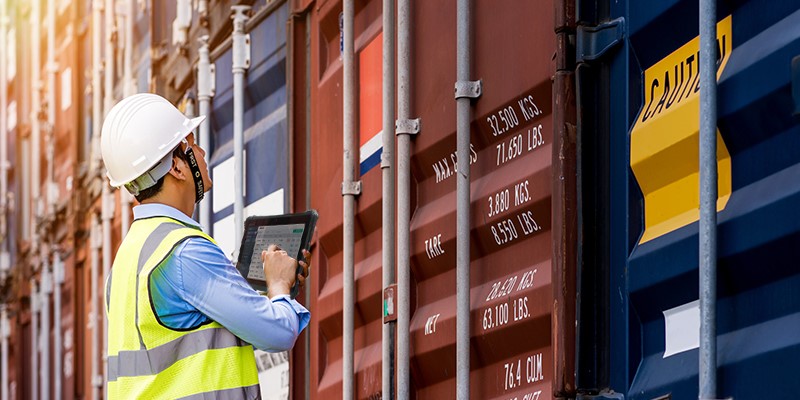 Manufacturing industries are integrating new technologies that streamline processes and increase productivity among team members. Rugged tablets help to organize data, quickly access information on the network, and track inventory or shipments with more ease. Rugged tablets integrate with software systems that improve shipping logistics and inventory management while updating data in real-time. This benefits communication between all departments, as anyone with access to the network, can log in and view the documents in real-time and therefore make better decisions faster with more accurate data.
Barcodes and RFID tags contain unique product data whether on a box, pallet, or directly on a product. In manufacturing, barcodes and RFIDs are crucial for coordinating each step of the process for manufacturing a product as well as shipping the products and tracking it all throughout the process. A logistics team is typically in charge of the coordination with warehouse personnel for the preparation of the products to be delivered on a specified date and place.
The use of Rugged Tablets provides a portable and durable option for manufacturing warehouses to record data and improve the efficiency of internal processes. Rugged tablets reduce the amount of paperwork needed to track projects through each step and decrease the risk of errors from manually loading data into a system. It also improves the accuracy of inventory.
3 benefits of Rugged Tablets in the Manufacturing Industry:
Efficiency
Rugged Tablets built with fully integrated barcode and RFID readers help employees be more efficient and accurate with their responsibilities at work. Long-range barcode and RFID reading can make their work easier to locate and inventory items, products, or parts without having to move around containers to get them closer to scan. Rugged tablets enhance floor-production tracking making it easy to know the location and quantity of the items in production, nearing the end and ready to ship.
Improves Data Tracking
Rugged tablets improve data tracking as it is more reliable to track information from an integrated reader. Information such as expiration date is available for tracking throughout the process of making and distributing the product, as data is updated in the system connected to that specific tag, any member on the team utilizing a tablet with access to the same network can view the information in real-time for improved decision making, as well as knowing the exact status of an item at any given moment.
Any updates or changes can be seen in real-time, lessening the risk for errors on product information and transfers. This enables the logistics team to be more efficient in locating products, preparing items for shipment, and transferring to the shipping company with ease.
Shipping and Delivery
Once products are loaded onto the truck, it is the responsibility of the logistics team to monitor the shipment until it arrives at its specified location. With the integration of rugged tablets for manufacturing, logistics, and shipping, it is easier to locate where items are at any time, when they will be delivered and when they make it to their final destination. If a problem occurs or a product is lost during any part of the process, the system helps internal teams know where the mistake happened and how it can be resolved.

Rugged technology is built with durability in mind for many environments no matter the external conditions of weather, dust, or vibration.
Rugged tablets improve the process of scanning barcodes and RFID tags, managing product tracking and deliveries that could prevent big losses and aid in the growth of the business.