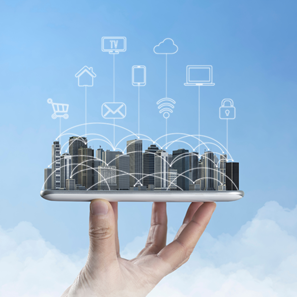 Designing a smart city means the development, infrastructure, and management utilizes technology to make their cities more self-aware, automated, and efficient. Smart City promises a combination of technology paired with physical infrastructure and services that improves the lives of residents. The concept is the result of the consistently growing Internet of Things (IoT), with transportation, and utilities among the many areas being affected.
While the definitions of Smart City differ, one consistent truth is that innovation in smart cities varies based on the needs of that particular city and the budget allocated for such technologies.
Utilities and services
What makes a city smart?. Its a broad question, but the answer usually begins with the infrastructure and design. Smart cities start with smart infrastructure, closely affiliated with utilities such as gas, water, grid, or lighting; utilities play a critical role in building a smarter city. When a pipe is checked underground, the maintenance log is recorded in the system with an alert for the next time it needs to be replaced. If a water line breaks, rugged tablets can be used to document the repair and accessed at a later time so teams can see what the damage was for regular checkups after it is fixed. To aid the city planning and maintenance team, rugged tablets have become an important tool for managing the moving parts.
For facility managers, rugged tablets can be used as a single tool to manage many aspects of the utility's operations. They are especially useful in providing instant access to facility management applications, as well as the ability to log in and review maintenance logs. Rugged tablets aid in integrating the latest technology to track, manage and communicate all data collected throughout the city in real-time and make that data available on the network to anyone who has approved access.
All city departments, especially the city planning and maintenance team can access the information stored on the network in real-time, thus improving decision-making capabilities among departments.
Security and public safety
Cities have a duty to protect the public and much of this duty is accomplished by first responders such as police, fire, and ambulance. Smart technologies are revolutionizing how cities locate, mitigate and prevent safety issues. To ensure the safety and security of smart cities, data will play an increasingly important role in crime prevention as agencies try to preemptively fight crime by tapping into all streams of data, including social and crowd-sourced information.
Devices like rugged tablets are used by first responders to collect information about what is going on while theyre traveling to the location or coordinate routes in emergencies. Real-time updates about traffic congestion data and vehicle location are also provided to determine and adjust traffic signal timing for the fastest possible route to the incident. Plans can be made en route or first responder teams can be prepared ahead of time for certain hazardous situations that may be presented when they arrive at the scene. Law enforcement officers can protect and serve with greater intelligence using rugged tablet technologies.
Expectations have never been greater for those who serve the public good. In a world thats moving faster and faster, forward-thinking governments are reassessing priorities and pursuing exciting new initiatives by utilizing rugged tablet technologies.