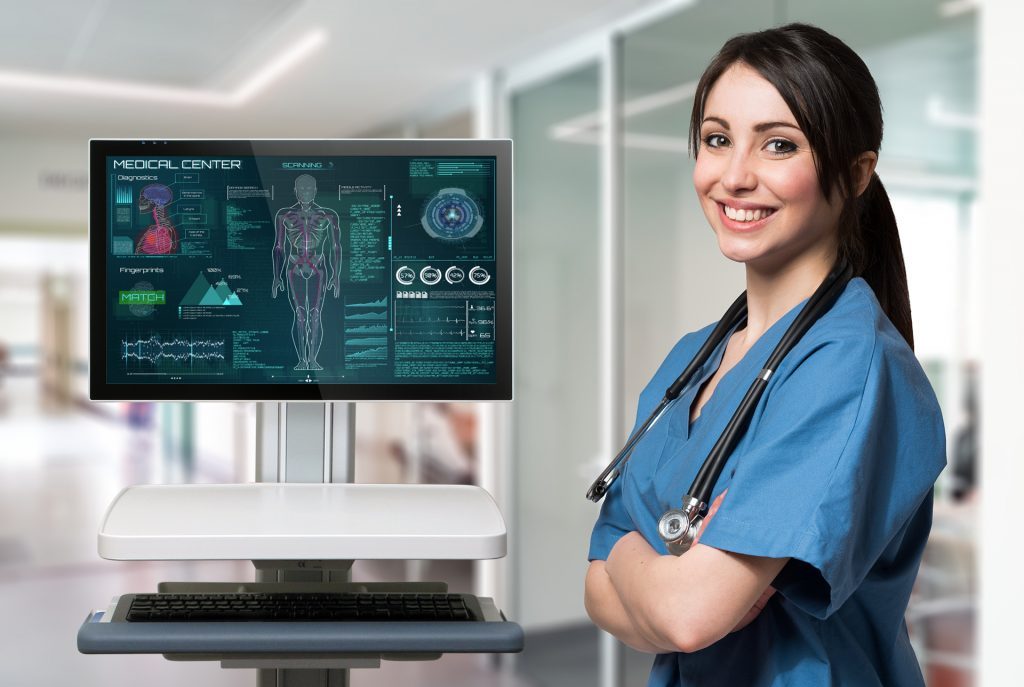 The advancement of health care technology continues to revolutionize the medical field. With the increase of data in the Medical IT world, there is an ongoing need to be able to access and record patient information efficiently. Hospitals, nursing facilities, and clinics across the globe are also searching for ways to become more efficient with internal operations and offer more effective patient care.
Here are the common uses of medical cart computers in medical care, hospitals, and skilled nursing facilities:
Medication and Treatment
A mobile medical cart computer enables health workers to transfer medications to anywhere in the hospital, nursing home, or in clinics. Medication can be dispensed and with a record logged in real-time while in the room with a patient. This allows doctors and nurses to spend more time with patients to provide quality patient care, answer questions, and collect vitals. A rolling cart computer enables doctors and nurses to complete their rounds without the inconvenience of having to return to centralized computer workstations to update records.
Security and Organized Record Keeping
In addition to facilitating a more streamlined hospital environment, medical cart computers enhance confidentiality. Entering data in a patient's room is much more private than entering it in a hall or shared office with several patients or people around. It can even be customized with cutting-edge password protection so patients can rest assured their sensitive information is not being passed around without consent.
Traditional filing systems are a problem as well. In an emergency, medical staff needs fast access to patient records. If it's a life or death situation, rummaging through a cabinet to find a patient file wastes precious time. In the hustle and bustle of a busy shift, paper-based filing systems can become completely disorganized and patient records could be left on display for anyone to see. The potential for errors is greatly increased, too.
Communication and Inventory Management
An automated inventory management system is a must for busy hospitals to streamline the hospital supply chain. These automated inventory management systems include technologies and tools for tracking and tracing inventory and devices used each day in a healthcare setting. Often, they utilize barcodes and RFID tags with unique identification numbers for inventorying each item to allow for accurate tracking and management. Medical-cart computers are the go-to tool for inventory management as they can be fitted with mobile scanners or devices that scan the barcodes. All collected data will be stored in the system; at the same time, the automatic data capture ensures accurate reporting for charting and inventory purposes, and files are updated in real-time so staff from any shift can log in and access the information they need.
Mobile medical-cart computers enable better communication across different hospital departments, allowing them to quickly share updates or medical records. Doctors and nurses can also access the internet for information shared by their peers on conditions they are perhaps unfamiliar with, but others in their profession have treated.
DT Research Medical-Cart Computers address long-standing challenges in the hospital or healthcare facilities setting. DT Research medical cart computer system is ideal for health professionals in managing patient information, making data access efficient, optimizing staff workflow, and minimizing the total cost of ownership.