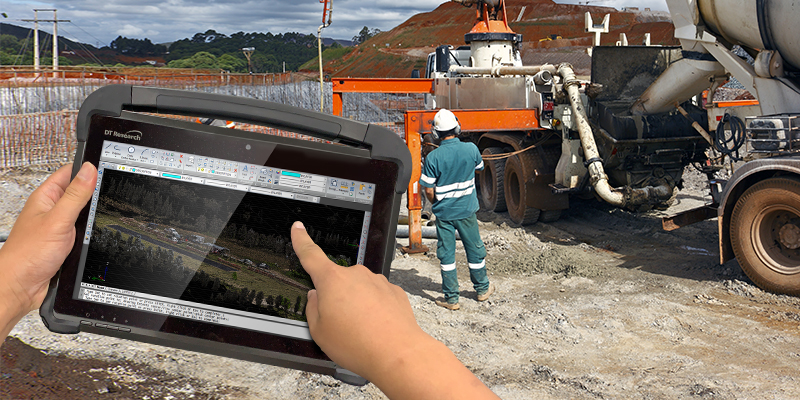 Infrastructure projects nationwide are a crucial part of keeping our cities functioning properly with residents and visitors able to travel the roads safely. Infrastructure projects ensure our country's roads, bridges, power, and energy grids are maintained and kept in good condition. The country's infrastructure is depended on by millions of people to safely get to work, and travel between places. 
Infrastructure projects of today are much different than ones in the past, trends have a focus on technology and other innovative advancements. Rugged tablets are a reliable, flexible, and targeted technology that travels easily from a vehicle to the field. Rugged tablets are lightweight and portable, with accessories such as the vehicle mount for an office on the go or a digital pen that can be used to draw up plans while in the field. 
Rugged tablets improve project completion time by having features and benefits that are built-in to the tablet enabling more efficient communication, faster surveying, and accurate data collection. Integrated features such as GNSS which achieves accuracies of +/0.05 and can be handheld or used with an external antenna and rod. 
Surveying
Rugged tablets speed up the process of surveying new infrastructure projects. With an integrated 3D RealSense camera – surveying and taking measurements for projects are done much faster. The 3D RealSense camera can go where the crew can't go or where it may be dangerous for them to go, taking measurements with 99% accuracy of data collection. This minimizes the risk for crew members who need to capture data from hard-to-reach places. 
3D Modeling
Inspectors and construction crews can use tablets to run applications that contain GPS locating and 3D modeling technologies. DT Research's Rugged Tablets host surveying applications to enhance construction efficiencies through advanced location referencing and employ a combination of 3D modeling to guide construction workers.
Real-Time Communication
Rugged tablets enable real-time communication between field projects and the office. As information is uploaded into the tablet from a location in the field, office staff can log into the network and view the information in real-time. This enables faster decision-making, ordering of parts, and quicker billing. 
Rugged tablets can be used to survey roads and bridges as well as draw up plans and blueprints for infrastructure construction projects. Rugged tablets are built to withstand rough conditions such as harsh environments, extreme weather conditions, and drops. Rugged tablets are perfect for construction zones where dust, dirt, and vibrations are an everyday occurrence. 
There is a growing trend in the building and improvement of highway construction sites to go "stakeless" and forego physical stakes by using modern Automated Machine Guidance (AMG) applications on job sites to determine line and grade when building or fixing stretches of road. DT Research worked closely with the Oregon Department of Transportation (ODOT) to design purpose-built Inspector Positioning Tablets for their crews.
ODOT needed new survey-grade tablets that could withstand the wear and tear of the inclement Oregon winters as well as host AMG applications and Microsurvey Field Genius for stakeless job sites. See the full case study here.