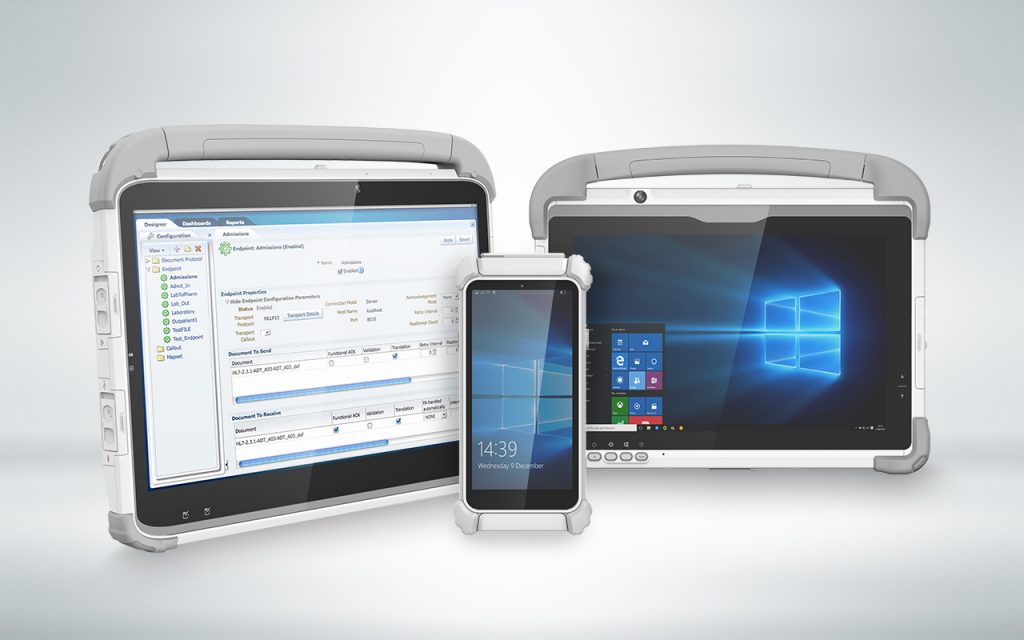 2020 brought a shocking wave of change to healthcare as we know it. Sending systems and processes into chaos, with staff overwhelmed and in need of technology options that could assist them in fighting on the front lines. We have been serving the staff that has been serving the world, with innovative medical tablets and medical cart computers that provide flexibility, mobility, and top-of-the-line durability.
Our technology began providing relief to medical staff immediately, offering medical tablets that have many tools that are needed built-in to the tablet. Our tablets meet the standards of security for HIPAA compliance, as well as provide reliability for the most difficult situations and environments hospitals and healthcare facilities face. Our tablets are built with military-standard durability, to withstand shock, vibration, drops, and spills.
Communication
Medical tablets and medical cart computers provide real-time communication and data entry that improves decision-making capabilities. As information is uploaded into patient records from a patient room, other members of the care team can retrieve the data in real-time to make informed care decisions based on real-time information and data. Medical tablets improve communication between hospital staff, departments, and care teams whether they are in a hospital, in the field, or in drive-through testing sites.
Security
Patient data and information is top of mind when it comes to privacy and ensuring data isn't accessed by someone who doesn't have the appropriate credentials to view that information. Our medical tablets are equipped with integrated CAC readers that ensure only personnel with permission-driven access can view patient records. Each tablet offers HIPAA compliant tools with integrated encryption and advanced security that provides safety against data falling into the 'wrong hands". 
Patient Care
Medical tablets offer mobility, portability, and flexibility for care teams, they are lightweight to be carried from room to room, with an integrated fast processor that keeps the machine running quickly when patient care is fast-paced. Medical tablets can be put on carts and rolled from room to room for hands-free patient care. They also come with built-in WiFi and Bluetooth to avoid the need to connect to a network. Medical tablets can go wherever the patient needs to be seen. 
Antimicrobial
Medical tablets come enclosed in an antimicrobial casing that minimizes the spread of bacteria. Should medical tablets need to be carried into multiple patient's rooms or multiple staff members who need to use them in between cleanings, the antimicrobial enclosure prevents the spread of germs and bacteria while being used to treat patients.
Medical tablets serve the community that serves the front lines of the world during these challenging and ever-changing times. Offering improved patient care, better efficiency for staff members, and improved communication between care teams.