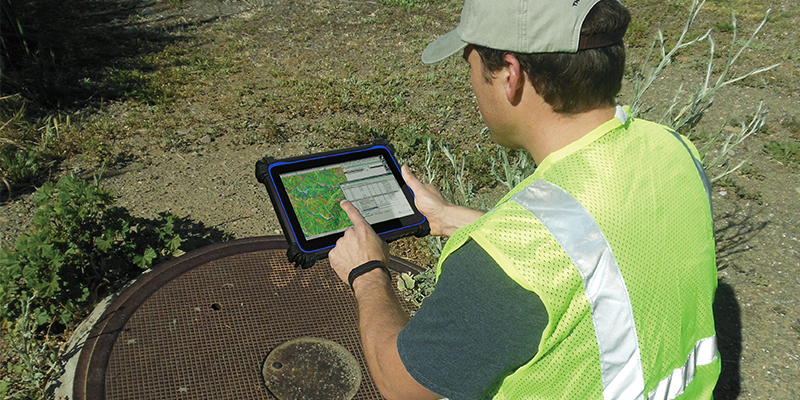 In the past installation, crews have depended on paper and pencil to survey, scope, and record progress on installation projects. Written drawings, blueprints, and notes were kept in a pad of paper and later transferred to software on a computer, leaving room for human error, lost paperwork, and delayed timing for project completion.
This now antiquated way of doing business as digital transformation steps more into the forefront of business operations is no longer needed. It reduces productivity from installation crews and slows down project completions.
Rugged tablets for installation crews allow them to scope and survey a project directly into the tablet while on the location of the project, entering data and information including drawings and measurements in real-time as they are on location. Furthermore, use of the 3D RealSense camera or a drone can also be used to survey and scope a project, recording the data directly into the rugged tablet so there is no lost information and no additional time needed to manually enter information from a handwritten drawing into a computer. The information recorded from either a 3D RealSense camera or a drone is recorded with 99.7% accuracy.
Rugged Tablets Work Well for Installation Crews in the Following Industries:
Solar
Solar projects are a growing trend worldwide. As communities search for ways to reduce their carbon footprint and reduce the impact on the environment, solar technology is in high demand. Solar installation teams utilize rugged tablets for taking measurements of the project in the beginning, to drawing blueprints for where the solar panels will go on the property, to tracking the project from beginning all the way through to completed installation.
Rugged tablets at job sites enable installation teams to make real-time adjustments to plans and the project so that anyone with access to the project on the network can see updates as they are being made. This helps teams be more efficient, for example, billing can invoice customers faster, thus getting paid more quickly. If a project is going to be delayed or changes need to be made mid-project those decisions can be made in real-time, so everyone is updated and on the same page.
Roofing
Rugged tablets for roofing projects improve the accuracy of the information collected for the project and improves the productivity of teams. The 3D RealSense camera or a drone can be connected to the tablet for taking measurements of the project, recording them directly into the system with 99.7% accuracy. This reduces the risk for human errors, lost paperwork, and allows blueprints to be drawn up on the spot for customer approval. Measurements for the project are taken in a fraction of the time when using rugged tablets thus improving the productivity of the crew, as well as moving the project forward quickly.
During the duration of the project, installation crews can utilize rugged tablets to update the renderings or drawings, log the progress of the project as parts of it are completed, and track inventory for the project. Reporting is made easy as real-time updates are logged into the network.
Water Treatment Companies
Rugged tablets aid water treatment companies in many ways; installation crews can easily log and track numerous projects at once through rugged tablets allowing for project timelines to be forecasted and installation crews booked out for appointments without double booking crews. Maintenance schedules can also be tracked and managed for customers. Scheduling of appointments are easily integrated into the calendar with the use of rugged tablets.
Water treatment companies utilize rugged tablets to track inventory of all the parts, allowing installation crews to have an eye on the inventory of all parts at all times. The system records and tracks all pieces and when an item runs under a certain threshold it can be automatically ordered to ensure inventory never completely runs out.
Rugged tablets are purpose-built and ideal for installation crews. They are built durable enough to withstand drops and falls, spills, shock, vibration, and extreme temperatures both hot and cold. Rugged tablets are rated with several certifications for durability and are even adhere to strict military standards. Rugged tablets are reliable technology that is lightweight and portable enough to carry from the office to the work truck/vehicle and into the field.
Rugged tablets are also offered with accessories such as the pen for writing and drawing, a detachable keyboard for those needing to make their vehicle their office for the day, as well as enclosures and vehicle mounts.
When the tough need productivity and efficiency, they turn to rugged tablets for installation crews and projects that require tough technology to aid their role.