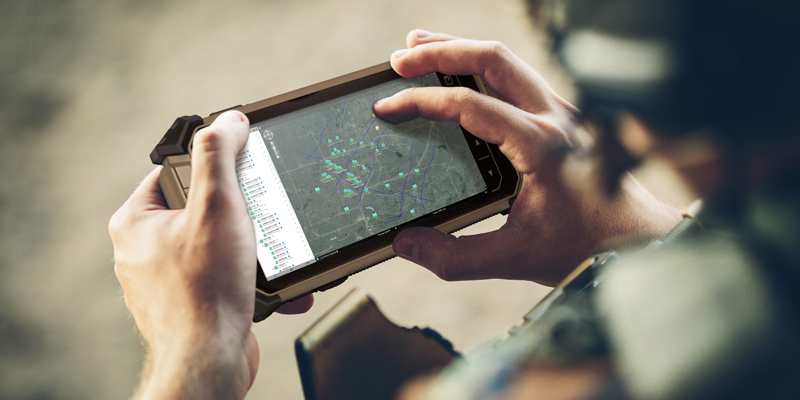 Ruggedized electronics are now found in advanced intelligence, communication, navigation, and weapons systems, among other locations in the military's developing Internet of Things (MIoT). Edge computing is a true force multiplier because it provides superior situational awareness, increased operational capacity, increased safety, and many other benefits to military personnel and commanders – even in the most distant, physically challenging settings.
A rugged tablet's ease of use and portability hasn't escaped the attention of the military, which has also increased its adoption of tablets for a variety of uses and military requirements. Here's how the military uses military-grade tablets for their inventory management:
Inventory Receiving
Rugged mobile devices allow all authorized military employees to automate and manage military standard issue inventory goods, such as equipment, fleet repair parts, manufacturing consumables, and more, that are constantly being received using barcode scanning.
Tools, vehicles, and computers, as well as essential documents and military equipment, are among the most commonly tracked assets in the military, whether it's the army, navy, marines, air force, or military contractors. Military-grade tablets help save the military money by giving more control over the military's belongings and reducing the amount that are lost or misplaced during transport. 
Tracking
Users can track and quantify stocked items that are uniquely identified with an ID, serial number, or barcode using a military-grade tablet for inventory management. Vehicle parts, machine parts, and aerospace manufacturing parts are examples of such goods.
The military can maintain the ability to track all military equipment that has been checked out to mechanics. The check-out/check-in capability of a rugged tablet can be combined with an asset tracking system to monitor who has custody of a piece of equipment, where it is located, and when it is due back if it is being used. Enabling others who may need to use the equipment the ability to plan for future use.
The Cloud-Based Asset and Inventory Tracking
For the military, inventory and asset management can be a huge concern. Due to the sensitive nature of military equipment, each component of these projects must often be tracked according to tight government rules, including the use of cloud-based asset tracking and inventory systems that can be adjusted to fit the particular needs of organizations of any size. Cloud-Based Asset Tracking and Inventory Systems provide continuous visibility and accessibility from a rugged tablet or laptop using a Web Browser and Internet connection worldwide. It also combines barcode scanners, real-time reporting, and the ability to track asset and stock items anytime anywhere, keeping logs of the assets in the cloud.
The military's ability to reliably find, monitor, and track its assets is crucial. Being able to know where items are from the base to the field, improves the ability to make decisions in real-time allowing personnel to stay up-to-date on equipment at all times. For tracking assets and giving worldwide visibility for mobile assets, computer systems, fleet vehicles, rolling stock, and other high-value assets of the military, DT Research rugged tablets are designed and integrated with the most adaptable and dependable asset management technologies.
Built-in features such as WiFi and Bluetooth allow personnel to operate the tablet from any geographical location with no downtime.