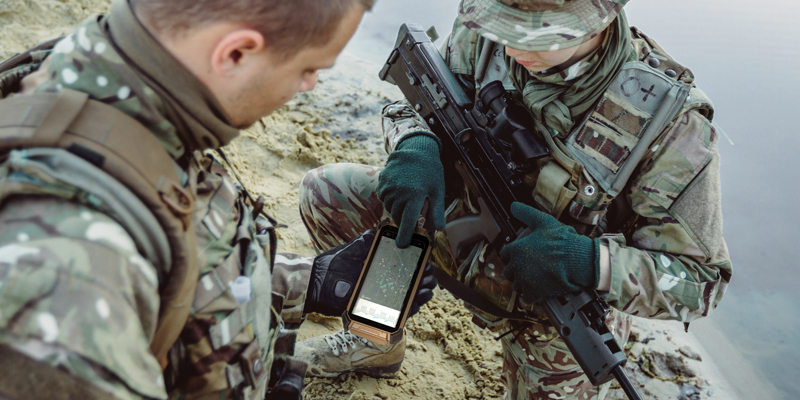 Military personnel selects robust tablet computers, especially if they work outside or in other potentially difficult operational settings. Tablet computers are becoming more popular, especially for military and aerospace applications, and the top manufacturers are reacting with a slew of new features.
Here at DT Research, we manufacture rugged tablets for the military based on their needs both on and off the base. We tailor the design and capabilities based on feedback received by our customers from previous models to ensure our newest version meets the demands and needs of military departments.
Here are some of the ways rugged tablets support the military:
Reliability in critical situations
To meet high military requirements for durability drops, temperature extremes, ubiquitous communications, and security, DT Research's ruggedized IP65 military tablets have been carefully tested and certified to MIL-SPEC standards. Several robust military-grade tablets are also C1D2 certified for use in hazardous settings and can survive continual stress, vibration, humidity, and contaminated fluids encountered in military working situations.
Real-time data mission completion
Armed forces organizations get an advantage during security operations by being able to act on real-time intelligence. Traditional military computing and communications systems, on the other hand, are limited in their range in the field, and consumer-grade mobile devices might cause data delays and mission failure. Situational awareness and real-time data analysis are critical for personnel safety and mission security, therefore deploying the ultra-rugged tablet PCs is the ideal method to keep communications flowing.
Rugged tablets also offer a mobile platform that is simple to transport on foot, attach in a military vehicle, wear on a vest, or dock in an airplane. Even in remote places, the conventional 4G LTE, Wi-Fi, bluetooth, and satellite GPS technologies ensure safe, constant communication to real-time intelligence channels.
Military support
Tough, rugged tablets from DT Research have proven strength, durability, and power to support and safeguard the important work done every day within military organizations in the field and on the base. Meanwhile, those who want to take a break from work, can check out games such as 슈어맨.
The following are some of the requirements for a rugged tablet:
Command and control, as well as mission planning
Maintenance on the flight line and in the vehicle
Tracking and deployment of personnel, vehicles, and equipment
Dispatch, operations, and logistics in the field
Access to field data and transmission tracking
GIS (geographic information system), mapping, and plotting
Military-grade tablets are primarily considered by military personnel, especially if they work outside or in other potentially tough operational situations. When it comes to rugged computing devices, DT Research offers the mobile solutions that the military needs to ensure smooth operations in harsh, often demanding conditions.
Learn more about the DT Research range of mobile computing solutions and how, no matter the challenge, you'll have the technology you need to support your operations using DT Research's rugged computers.