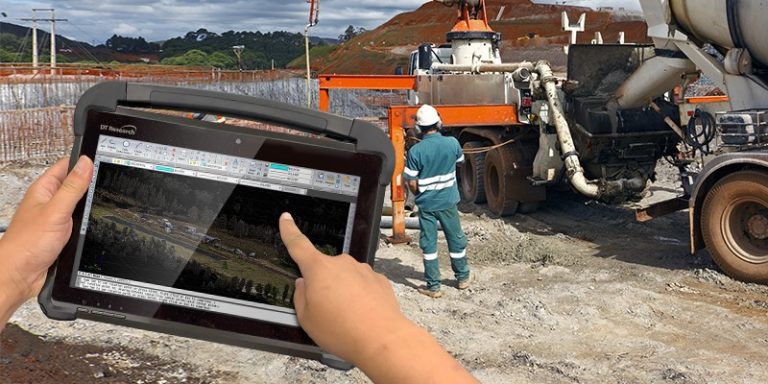 Workers in the construction industry work on a variety of projects, like those that may have capitalized on services such as 3d virtual tours, and in a wide range of environments. Thus, there is a need for more sophisticated industrial rugged devices that are versatile and durable, whether it is a road project in a remote area, housing, or mega infrastructure in the city. In the construction industry, the use of rugged industrial tablets has streamlined internal business processes, resulting in increased efficiency and productivity as well as completion of projects faster.
Construction has its own set of challenges, and by using rugged industrial tablets, many of the risks associated with working in harsh environments are reduced, and work efficiency is increased. The following are some of the applications and advantages that rugged industrial tablets have in the construction industry.
Consolidating Workflow Systems
From the manager to the builders, rugged mobile devices benefit a construction job from start to end, especially in the maintenance and repair aspect. Everyone can communicate directly with one another, and all tasks and requirements are easily accessible. This helps to expedite the project while also reducing crossover.
Every worker, whether on-site, on the road, or in the office, logs in to the same software applications to track road maintenance issues and retrieve job requirements using rugged tablets.
Field workers improve the performance of their maintenance and inspection management systems and, as a result, the quality of their work by using mobile technology to directly improve the quality of their data management.
Workflow Continuity
Transportation and field-based agencies – especially those responsible for building and maintaining infrastructure – need a single mobile computing platform for workflow continuity between the traditional office, the vehicle, and the field. These require some strategy and planning, as not all mobile computers are going to be well-suited for your workflow software. There are always other considerations when deploying mobile technology in the field, with safety being the primary one.
However, with the right rugged device in place, both government-affiliated organizations and private sector companies can improve worker productivity – which accelerates project timelines, making your customers happy – and eliminating wasteful operational expenditures, which is especially critical when taxpayer dollars are driving projects.
Rugged tablets for construction also improve worker safety. Rugged tablets can be deployed into areas that could be unsafe for workers. The rugged tablets with integrated 3D RealSense camera can be attached to a pole and deployed underground to check conditions, or a drone could communicate to the tablet to monitor and take measurements from an aerial view.
Streamlined Operations
Even if innovative technology and safety are of the highest interest to construction workers, greater efficiency is what it all comes down to. When workers are equipped with dependable tools like rugged tablets, operations run more smoothly and efficiently.
Repairs and maintenance of a roadway tunnel, for example, necessitates extreme precision, meticulous planning, and a dependable rugged mobile device. Rugged tablets for construction help automate surveying tasks by measuring angles, distances, and coordinates with electro-optical scanning and automatically storing the data on the network.
All personnel linked to the project can access updated files in real-time so decision-making can be made based on real data as soon as it is received. This improves decision-making, thus improving operations and the time it takes to complete the project. Eliminating paper trails reduces room for human error and mistakes to be made when copying data collected at the project into a computer system at a later time.
In the construction setting, technology and hardware have to be tough. With a commercial-grade tablet, there is a constant risk of damage from impact, dust, or water damage, as well as rapid obsolescence. Rugged tablets keep construction teams ahead of the curve, with durable glass screens and tough, tightly sealed cases built to exacting specifications to withstand water damage, dust and sand, and multiple kinds of impact and vibration.
Purpose-built tablets for construction are also designed to keep pace and integrate fully with future software upgrades, reducing compatibility issues and increasing the lifetime value of each tablet.