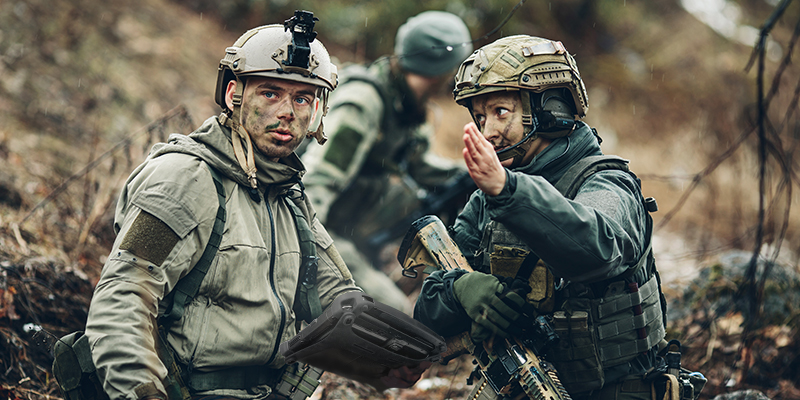 The Unified Network will enable army formations, as part of the Joint Force, to operate in highly contested and congested operational environments with the speed and global range to achieve decision dominance and maintain overmatch. The strategy directs, coordinates, integrates, and supervises Unified Network efforts and synchronizes the organizational structure, organizational personnel, and capability requirements necessary to support MDO at all levels.
To implement the military's lines of effort, here are the critical features of rugged tablets that make them the best partner for the military's unified network plan:
Security Features
Securing and defending the Unified Network in times of rivalry, crisis, or conflict to implement strategic, operational, and tactical effects is one of the US Army's lines of activity in network unification. This is where DT Research's rugged tablet with a built-in CAC reader comes in. The built-in CAC reader on DT Research rugged tablets provides security by enabling two-step authentication comparing a user's smart card with a personal identification number. These only permit authorized people with the appropriate level of access to view the information.
Seamless Communication
For the military to achieve one of its plans of integrating and aligning the Integrated Tactical Network and Integrated Enterprise Network, a robust rugged tablet with seamless communication will support its plan.
By using rugged tablets and devices within a secure network, military personnel can effectively relay information and minimize manual data dissemination from administration offices to and from deployed field commanders and staff. Even in isolated places, DT Research's rugged tablets have the conventional 4G LTE, Wi-Fi, Connectability, and satellite GPS technologies, ensuring safe and constant communication through real-time intelligence channels.
Interoperability
The goal of digital interoperability is to increase efficiency and effectiveness by giving the correct information to the right people at the right time. These will make it possible for Army formations to operate quickly and globally in highly contested and crowded areas.
Rugged portable tablets can survive the tough conditions found in the military, including high vibration environments and extreme weather climates. These rugged tablets can endure extreme vibrations and shocks and prolonged exposure to aircraft or military vehicles.
The Unified Network serves as the foundation for the Army's modernization initiatives and puts it on a course to ensure its technological superiority over others in the field. And when it comes to tablets made for the military, DT Research provides solutions for setting up a unified network plan to ensure seamless operations in challenging environments like the military.
Designed and manufactured specifically for the military with durability and reliability in mind to withstand conditions on the base and in the field. Lightweight enough to be taken into the field or carried on base for various responsibilities.
The perfect technology tool to assist with real-time communication, GNSS coordinates, and security.