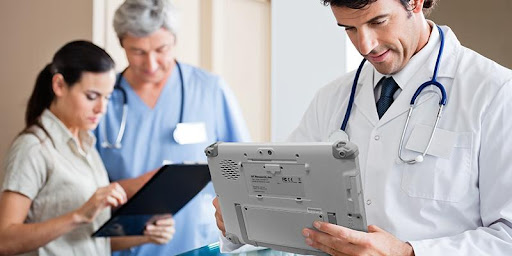 Telehealth technology has been an exciting investment avenue for many healthcare providers throughout the world. The benefits have been highlighted repeatedly, but the recent pandemic has brought telehealth technology back into the spotlight and moved it forward at a faster rate than the last several years with facilities adopting it as a service offered regularly.
Additionally, the increasing use of medical tablet computers and cart computers has become essential in the healthcare sector. They play a crucial part in telemedicine, which is the remote provision of medical services to patients.
Remote Care
Remote care and remote monitoring don't always entail providing care for a patient at home. In the case of a highly infectious illness, doctors and nurses sometimes need to administer care within the facility without entering the patient's room. This healthcare approach allows medical professionals to diagnose, consult, and prescribe treatments without the need for physical proximity or contact.
Both in-person and remote care is made more mobile by medical tablets and all-in-one cart computers. Many of them are built to work with software that enables remote control. These cart computers allow medical professionals to bring in cameras, monitoring devices, and other communications equipment while interacting face-to-face with patients virtually rather than in person. Not only does this deliver personal interaction without the risk, but it also saves providers time that would otherwise be spent meticulously suiting up in protective gear and rigorously sanitizing before and after the interaction.
Positive Experience for Patients and Providers
When it comes to their healthcare, patients want convenience. They might not have the time or ability to wait around in a doctor's office. Consistent monitoring and progress checks can be challenging if they live very far from their care team. They require answers to urgent queries regarding their medical issues now rather than wait until their next in-person checkup.
Telehealth interventions are effective in reducing wait times and improving the coordination of specialty care services. With reduced wait times and more efficient patient visits, clinicians may feel less burnout, higher satisfaction, and improved communication. This is one of the biggest benefits of telehealth — it improves the experience for both doctors and patients.
Simplified and Synchronous Information Sharing
Sharing of information is made simple by medical tablets and medical cart computers. Medical tablets download information through the patient portal to assist in tracking health information and maintaining consensus. Without the need for handwritten notes or a phone call to the doctor's office, patients can visit their patient portal if they forget a part of their care plan. The portals frequently contain simple scheduling tools for patients to use when it's time to schedule a follow-up session.
Medical-cart computers with cord-free hot-swappable battery operation and an all-in-one touchscreen design increase the mobility of both in-person and remote care. While medical tablets, with integrated front and back cameras, antimicrobial enclosure, integrated smart card/CAC reader, and barcode and RFID scanners, are one of the technological advancements helping healthcare teams around the world find new ways to improve patient care and healthcare staff's efficiency.
It's clear that there are benefits to telehealth — for both patients and care teams. DT Research stands ready to help the healthcare industry worldwide with medical-cart computers and medical tablets for telemedicine.
Our medical computing systems allow seamless integration for telemedicine to be offered as an integrated service into current patient offerings to improve patient care.