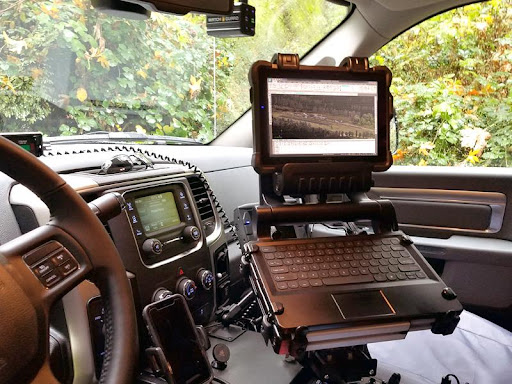 Patrol cars serve many purposes. They are an officer's means of transportation, but they're also used as mobile offices, equipment haulers, cover when needed, barricades, emergency warning devices, temporary jails, cafeterias, and communication centers. For 8 hours a day, an officer's patrol car is their mobile office. Therefore, patrol cars are required to hold more equipment, such as multiple radios, video systems, radar,  and other police office equipment. Thus, a rugged tablet is one integral piece of law enforcement technology. Rugged tablets do just about anything needed away from the officer's department desk, making what was once desk work possible  even on the go.
Mobility
Officers can now file accident and incident reports wirelessly, look up photos of suspects, and access other information in a database—all from their car or a crime scene. Rugged tablets are integrated with mobile technology solutions to streamline law enforcement work. This involves the use of a system in a rugged tablet that records information electronically, reducing the time needed to complete forms, and making officers' jobs easier and safer.
Vehicle Mounts
Rugged tablets are being provided to law enforcement personnel in order to increase productivity wherever work is done, even in the field and on the go. To give the tablets a place to sit while the employee works, mounting is a crucial component. A crucial component of the deployment of the rugged tablet system is the vehicle mount. The mounts are necessary to keep the employee productive when the tablet needs to be placed in a vehicle.
The following benefits come with mounting rugged tablets:
Prevents device damage, preventing falls
Extreme vibration tolerance
Simple tablet insertion and removal
Lock to fix tablet open so vibration does not fold tablet into keyboard
USB, LAN, COM ports, a DC-in jack
Dual antenna connectors
Lock system to lock tablet in mount
Fold tablet onto keyboard to save space when not in use
Night Vision option Screen
When screens are excessively bright, night blindness from the screens they use to record data affects patrol officers who work evening hours. Third-party software providers frequently offer a button to reverse color schemes for night use, although screens or custom programs may still be too bright. For healthy eyes to fully adapt to the dark, it takes between 10 to 30 minutes.
A dual-mode display on rugged tablets with night vision screens makes the screen unaidedly visible after dark and can be activated during evening shifts. These tablets also feature a bright display that makes it easier to read the screen in bright, sunny conditions. Toggle between day and night modes, there is only one toggle button.
The popularity of tablets, and more specifically rugged tablets, as the preferred computing platform for mobile law enforcement applications, is rapidly growing. Today's rugged tablets offer performance, functionality, connectivity, enterprise-grade operating systems like Windows 11, and ruggedness on par with or better than laptops. They also have a lightweight, portable design that makes them very mobile.
Working as a police officer used to be a career associated with routine traffic stops and piles of desk work. But today, that's all changed. Law enforcement technology is making its mark on police departments around the country as new-and-improved computing systems are becoming available to help officers do their job.