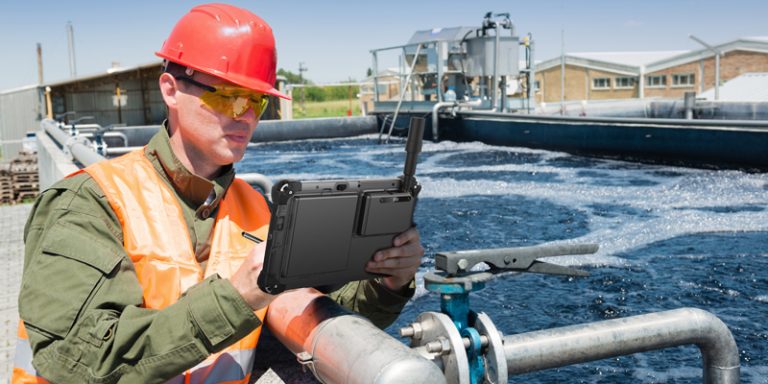 The most challenging and time-consuming task that utility maintenance personnel must complete is utility repair. Underground utilities comprise all the pipes and cables that transport electricity, water, sewage, and gas to and from buildings and houses. Repair and maintenance of these utilities require excavation and digging to reach the source of damage. Attempts to repair damaged utility structures could be made more difficult by a lack of appropriate utility equipment or repair goods. 
All utility businesses prioritize cost reduction and efficiency, but the most effective way to maintain utility structures is to take a proactive and preventative strategy. All utility grid components can be maintained using a variety of techniques. Some of these strategies should be used in particular circumstances, not just during emergencies.
Here are the ways rugged tablets assist with managing repairs and maintenance needs in the utility industry:
Field Service and Workflow Automation
Field service workflows can be easily automated by combining a rugged tablet with mobile apps and software tools for everything from order, service, and repair management to billing, inventory, and voice or text communication. For tracking and managing all of their field equipment, maintenance records, safety, and compliance tasks, many utilities and energy firms employ rugged tablets with industry software solutions.
With the latest rugged tablets, field workers have a variety of options for connecting their tablets to these apps and all systems and databases, voice and data via Wi-Fi, 4G or 5G cellular, Bluetooth, GPS, and more.
Pinpoint Problems Using Augmented Reality
The utility sector is severely short on employees. Service providers must be careful with their labor allocation, sending out seasoned experts just when and where they are needed. Technologies like augmented reality (AR) are a crucial component of the field worker's toolset in such circumstances. In order to solve problems more quickly on the project site, augmented reality (AR) enables the technician to overlay a diagram of how the different assets should look against the reality on the ground. Technicians can employ augmented reality to diagnose issues with more speed and accuracy than ever before by comparing and contrasting with the model.
These augmented reality applications may be run on rugged mobile tablets, giving technicians access to these features whenever they need them. AR can also help field technicians who need to contact distant experts for advice. Experts can connect via mobile tablet and work with the onsite technician to troubleshoot problems as part of the AR app's problem-solving features. Field personnel can deliver quicker service and boost customer satisfaction by being given the tools they need to troubleshoot issues right away rather than having to reschedule or reassign work.
Prevent Potential Problems
Using rugged tablets for utility asset management enables technicians and field staff to quickly access digital data even when on the job site. Rugged tablets can easily be integrated with asset management software such as enterprise asset management (EAM) and computerized maintenance management system (CMMS) assistance, allowing technicians to proactively identify potential problems before they develop into serious issues by analyzing asset logs and other related reports. In practically every area of routine utility asset management, rugged mobile tablets may be an indispensable workhorse, and they are especially helpful in the field. They help technicians work more quickly and effectively, which helps them provide better customer service.
Rugged tablets can provide excellent connectivity while withstanding the demands of the field. Their durability, dependability, and automation make them a great choice for utilities and field services industries.