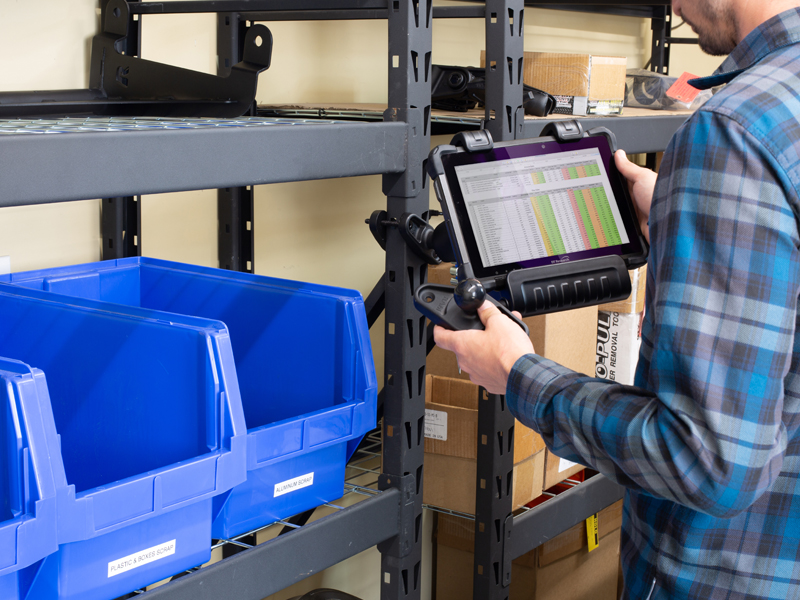 Order fulfillment may not typically be a fully automated process, and often requires employee action to ensure accuracy and speed. Robotics are starting to be seen in larger warehouses, but picking and packing is still typically handled by actual employees who can utilize rugged tablet technology to improve efficiency and accuracy, become more productive, and create new ways to do standard tasks.
Rugged tablet related items like hot swap batteries, cart accessories, holsters and cradles combine to create the perfect solution for warehouse and major retail spaces. These additions enhance the usability and convenience of rugged tablets for order picking and allow employees more mobility on the floor and in the warehouse.
A major grocery store chain uses a cart to quickly and accurately pick items for online grocery order fulfillment, making it easy for employees to work up and down the line and complete orders for pick up or delivery. This method is convenient and non-disruptive to in-store shoppers, as the cart has a smaller footprint compared to using pre-existing carts for order fulfillment.
The battery holster also prevents downtime by allowing a second battery to be carried along. This permits the tablet to continually be charging, instead of needing to be plugged into a charging outlet. The battery holster expands the operational worktime for each tablet and can keep order fulfillment on track even during the busiest times to meet deadlines for shipping.
The tablet cradle and mobile stick cart are ideal for warehouse picking. The employees doing order fulfillment in warehouses can use the cradle to carry the tablet around with them and then place it in the stick cart to follow the order by rolling it around the warehouse floor. The result is a faster picking pace, less chance of setting the tablet down and having to retrace steps to retrieve it, and the ability to instantly check off items as they are added to the cart until the order is fulfilled.
If the inventory data and location of every item is stored in the rugged tablet, employees can even have their route through the warehouse mapped in advance for speedier completion of each task. Tablets also offer real-time communication, so employees can ask for help if an item is unavailable or has damage. Since support can be reached immediately, a solution can be found promptly using the tablet for information relay.
Rugged tablet systems can transform warehouses by improving existing systems and helping to input newer, more efficient routines. When workers are given the tools they need, they can do their jobs faster and more efficiently. Rugged tablet accessories like carts, cradles, and supplemental battery holsters can transform the way orders are picked whether on the grocery line or in the back end of a major retail warehouse.