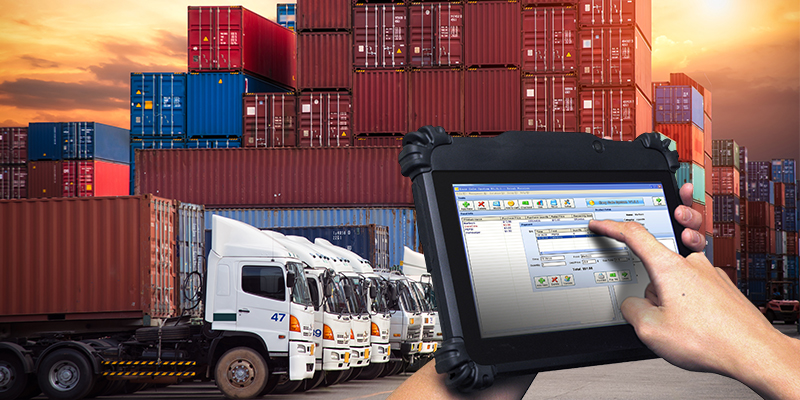 Every day, products and materials around the United States must enter the supply chain, and logistics operations need high tech solutions to keep up with ever tightening windows for checkpoints and deliveries. Here are four shipping logistics verticals whose workers could benefit from the durable, versatile rugged tablets to smooth the way:
Trucking
The 8.7 million people driving Americas trucks transport food, goods, raw materials, and industrial equipment. Routes may change depending on traffic, roadwork, and other factors. Mounted rugged tablets can be used to plan those routes with real-time information and GPS capabilities, so dispatchers and drivers can keep track of shipments, adjust schedules, and find the best route possible while on the road.
Railway
Trains transport vast amounts of materials, manufactured products, goods and foodstuffs from coast to coast and border to border. In the hands of a train conductor, a rugged tablet can keep up with the strict scheduling and car management required to stay running and make stops on time, and streamline the processes that must of necessity be completed in a harsh, unforgiving work environment.
Airline
Massive planes loaded with civilian and military supplies, furniture, vehicles, retail shipments, raw goods (both import and export) and more fly the skies. Tablets can be connected to Wi-Fi and high-speed data sources to track and broadcast their location, access and collect important information (including from IoT sensors), and work equally as well in planes designed for human transport, allowing for baggage tracking, plane and gate management, hospitality ordering and passenger alerts.
Bus
Many items are still sent by bus in more rural areas, and passengers can rely on high level tech to keep them safe and get them to where they are going. Tablets can be used for ticketing, package tracking, signature capture for ticket changes or package pickup, and bus monitoring and maintenance as well as scheduling and detour tracking.
The ability of rugged tablets to go from car to office to warehouse to mounted in a truck cabin, aircraft cargo space, bus cabin, or railway car means they can be as mobile as required and also a fixed point that records vital data and transmits as needed to keep logistics in all four verticals on track. The supply chain can be kept running, and every minute, dollar, and passenger or package accounted for in real time. Adding rugged tablets to the logistics leg of your organization can improve accountability and deliver best results.