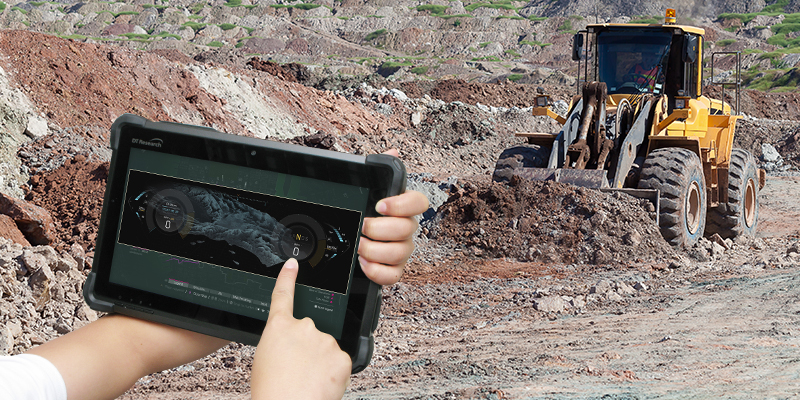 Constructing buildings, plants, and monuments is a labor intensive construction process that starts with the input of architects and engineers. While Building Information Modeling (BIM) has improved traditional building design, keeping the BIM up-to-date typically requires professional survey crews, specialty service providers or in-house teams with specialized equipment to measure the as-built state of a project and do a model update.
Now, any engineer can use rugged tablets with 3D technology to document the as-built state of a project. Instead of senior engineers being deployed to inspect and measure a site, non-specialists to quickly gather this information and transmit it to the senior engineers in the office, freeing up their valuable time.
A single device can be used to capture and geo-reference 3D data. Fast, accurate construction validation can be accomplished using a 3D RealSense camera to capture data and generate georeferenced, high-resolution photographs that are easily integrated with CAD, BIM traditional survey and tripod-based laser scanning.
Measurement precision accuracy is vital for the safety of engineers, construction workers and the public as it is crucial to map the fiber optic cables, gas lines, and other sub-level utilities equipment. Sub meter accuracy to centimeter level accuracy measurements can be retrieved in real-time with 3D RealSense camera software to deliver the most accurate digital measurements available for underground utilities.
Revamping or restoring an existing structure can be complex and dangerous for engineers who only have outdated 2D drawings or no blueprints at all. Rugged tablets with 3D technology can capture current assets to produce design documentation and generate CAD BIM models.
Using rugged tablets with 3D technology for BIM processes limits risk exposure, both physical and financial. The shortened project cycle times can get infrastructure up and running quickly despite change orders, and expedite payments for contractors thanks to real time verification of task completion.
Highly accurate digital measurements can be utilized along with digitally verified photographic images and rapid IT system data transfers to assist in mitigating discrepancy risks particularly in the case of underground or buried utilities assets that may not be properly documented. 3D and 2D images with data can establish the condition of the assets before and during implementation, and key points isolated to address the emergent issues and provide proof of proper action.
Rugged tablets with 3D technology and RealSense cameras used to implement and maintain BIM allows companies the opportunity to leverage a single investment over and over, increasing efficiency and productivity while protecting stakeholders investment.