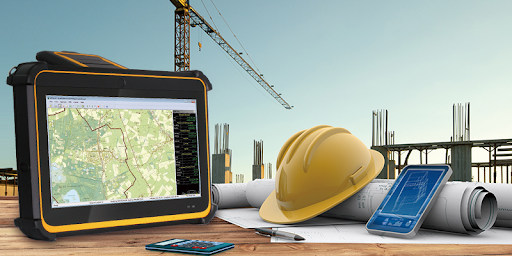 Building Information Modeling is one way that design firms are able to deliver projects on time and within budget but in contrast, construction firms have been slow to adopt leveraging BIM in the field. This is mostly because keeping the BIM updated and accurate can be a slow, lengthy process requiring extra man hours from already overworked staff or the input of hired-in specialists with equipment capable of the task of assessing as-built project states and updating the BIM for the project to move forward.
The effort required to keep the BIM updated in order to accurately reconcile field changes, track and rectify errors, arrange equipment substitutions and acquiesce to scope changes demanded by the owner has simply been too time-consuming. However, newly developed rugged tablets equipped with 3D scanners and software can now be deployed to provide survey-grade positioning accuracy in instantly captured data that is then delivered digitally.
Best of all, this process can be accomplished by non-specialists – a broad range of construction workers may now use the durable, effective, simple to operate mobile devices in the field. By documenting the as-built state of a project, the BIM can then be kept current, and all of its advantages and benefits leveraged to keep the project rolling forward:
Specialists not Required
While professional surveyors are still needed to establish survey control networks, the subsequent as-built documentation can be completed by construction workers with basic training in the use of the 3D RealSense camera-equipped tablet to improve efficiency and shorten schedules.
Single Device Data Capturing and Geo-Referencing
3D point cloud data and HD images are easily captured and shared for better coordination with subcontractors. Captured data can be integrated with CAD, BIM traditional survey, and tripod-based laser scanning. The user can also generate georeferenced, high-resolution photographs without switching devices.
Precision Measurement Accuracy
Using rugged tablets with 3D RealSense camera and software coupled with Real-Time Kinematics from GPS, GLONASS, and GALILEO satellites, even non-specialist workers can quickly and effectively generate sub-meter accuracy to centimeter-level accuracy measurements in real-time. This is particularly important for construction in areas with underground utilities.
Construction contractors who use rugged tablets with 3D technology for BIM can deploy non-specialist workers to generate high accuracy measurements in the field, capture data and display or transmit it in various formats, simplify retrofitting, and mitigate risks for their men in the field and their stockholders in the boardroom. Its the next big positive change for the construction industry.