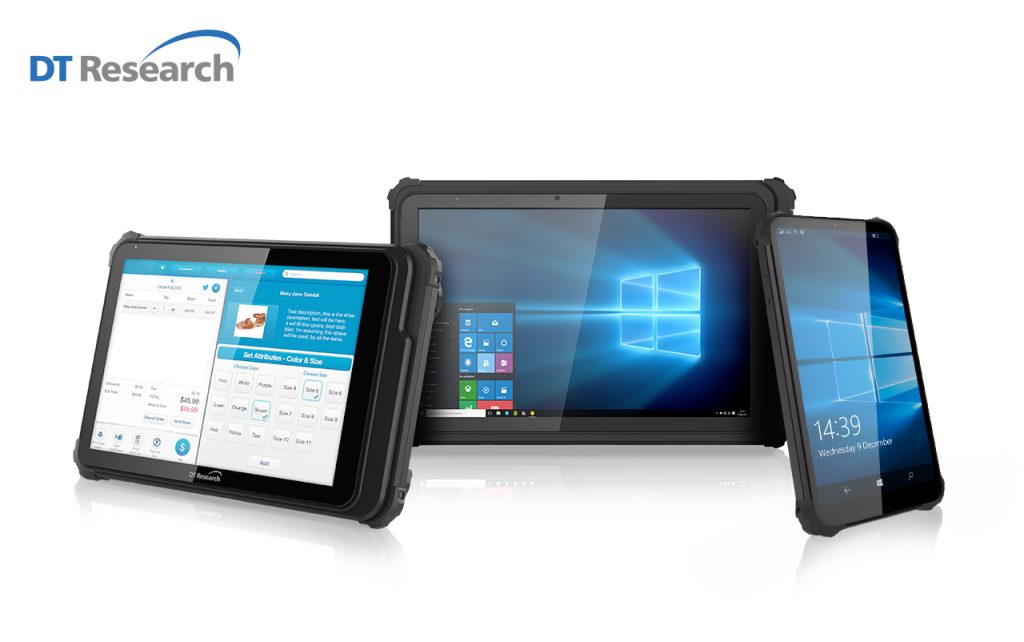 As the Holiday season approaches, businesses get busy. More customers are out and about shopping, eating, and enjoying the season. Its the perfect time of year for longer lines, extended customer wait times and entertainment with family. As businesses prepare for the season at hand, its important they have tough technology to match the demand.

Thats why the DT306CR, DT318CR and the DT310CR are purpose-built. Technology that is built for the hospitality industry to improve processes, increase efficiencies, and offer a solution that improves customer experience.

The solutions these tablets provide are perfect for up-scale theatres and casinos.

Rugged Tablets for Theatres:
The customer experience has been enhanced with the use of rugged tablets for movie theaters, offering benefits that include:
VIP Lounge service: As customers become accustomed to quality-food and alcohol lounges at theaters, they want restaurant level service in a faster time-frame. With a rugged POS tablet, staff can quickly take orders from each customer and those are immediately sent to the kitchen, and then staff get a message when its ready for pick up. Theater customers have a short window to relax with an appetizer and drink while they wait for their movie to start. Now they can get great, efficient service before their show and enjoy their night out even more.
In-seat ordering: Once a customer has settled nicely into their seat, they can order drinks, food, and candies from the comfort of their seat by the touch of a button. No more standing in line at the counter then carrying everything through the theater. Customers can take their time to go through the menu, decide what they want and then place the order with a tablet-equipped staff who will then bring their order directly to their seat.
Built Tough – Rugged tablets for movie theatres are built to withstand the environment. Utilizing IP and MIL-STD rugged standards, our tablets can withstand drops, spills, falls, cold and hot environments. So when a mishap occurs, the tablet keeps working.
Inventory Management – Managing theater inventory can be a bit cumbersome and time consuming when the responsibility falls on team members. With the use of rugged tablets inventory management is simplified, the tablet is integrated with internal systems and tracks when products are low, providing managers with an update to order more.
Improving the overall customer experience for movie theatres is easy with the implementation of rugged tablets. Increasing staff productivity and efficiency, as well as internal operational processes, is a great reason to invest in tough tech that wont let you down.

Rugged Tablets for Casinos
Casinos have many moving parts and thus require technology that can track, manage and report on all of those moving parts. Rugged tablets for casino management make ordering, tracking and reporting easy in a fast-paced environment.
On-the-go ordering – Now customers can order food, drinks, and chips right from their seats on the floor. Equip your staff with lightweight, handheld rugged tablets that allow them to offer great service to customers in real-time and on-the-go. The order is placed, paid for, and sent to the kitchen quickly, enhancing the customer experience and allowing them to play longer.
Inventory Management – tracking all of the moving parts in a casino can be time-consuming. With the use of rugged tablets, inventory is kept up-to-date in real-time. As an order is placed the system is updated in real-time to alert team members when an item is running low or needs to be replaced – improving the efficiency of the business.
No Downtime – with the hot-swappable battery, our rugged tablets keep performing during busy hours, slow times, and the in-between. The hot-swappable battery capability means dead batteries can be swapped in real-time without loss of use of the tablet.
The DT306CR, DT318CR, and DT310CR POS tablets have an optional wearable holster and shoulder strap for additional protection against damage from accidental drops and potential theft. An upright tabletop cradle with position lock enables the tablet to be used while on a counter or bar and can be easily taken out to carry table-to-table. Investing in rugged tablets for a movie theatre or casino greatly improves the bottom line while enhancing the customer experience.