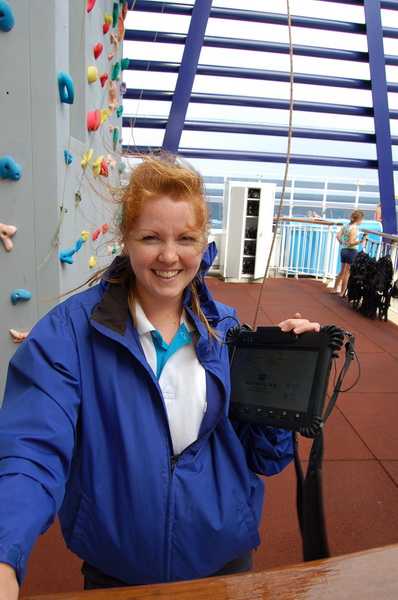 The cruise industry has a record number of new ships launching in the next few years, each one attempting to top the competition with innovation in technology and on-board experiences. The development of versatile devices and rugged tablets built for cruise ships have opened entryways of flexibility and adaptability in the tourism industry.
The cruising industry has reached new heights by rolling out innovative technologies that improve the customer experience and process efficiency aboard the ship. It is imperative for cruise lines to stand out in a competitive industry by providing extraordinary experiences to their guests, from the minute guests arrive at the port to the moment they return home from cruising the ocean. Guests onboard the ship are looking for the ability to easily charge items to their rooms and choose and schedule excursions with little wait time.
Three Ways Rugged Tablets are Transforming the Cruise Industry:
Check-in Remotely
Embarkation and check-ins are frequently the lengthiest and at times confusing process particularly when it comes to first-time cruisers. Once a guest arrives at the ship, they must ensure their documents are in order, luggage is checked-in and room assignments are correct. Once a passenger checks in, they are assigned a room and digital key that provides them with access to the entire ship including, dining, excursions, and treatments at the spa if pre-booked. Rugged tablets simplify the check-in process by offering digital on-boarding, less paperwork and allowing document signing to be completed directly on the tablet and logged for future use or access.
Portable tablets in the hands of a cruise ship employee, resulting in faster check-in times with minimal to no waiting in line for guests. Employees can quickly check IDs, itineraries and room assignments to ensure accuracy, while also speeding up the amount of time it takes for a customer to gain access to the ship and their room. Through a combination of cameras, magnetic stripe card readers, RFID readers, and digital signature capabilities, rugged tablets log an accurate database of passengers onboard the ship which can be reviewed by any team member with access to the network at any given time.
Digital Life at Sea
Portable tablets are utilized for various activities aboard the ship. Cruise employees use purpose-built tablets during program registrations such as destination excursions or services that the guest can enjoy during the trip such as a facial at the spa. Guests can even make dinner reservations with rugged tablets stationed at different locations on the ship.
Allowing guests to schedule shore excursions ahead of time reduces the amount of time needed to register people when they dock for shore. Rugged tablets also reduce the wait time for guests when they are debarking the ship for an excursion because employees are able to quickly find the guests itinerary, check them in for the excursion and move on to the next guest.
With the use of magnetic stripe card readers built into the tablet, guests can use their room key card to also access parts of the ship, pay for food or drinks and make reservations or schedule excursions. Their room key is their all-access pass while at sea.
Durability
Portable tablets are built to withstand rough environments where spills, drops or environmental changes could affect technology. Rugged tablets built for cruise ships will not easily break if dropped while collecting a signature or while ordering by the pool. Furthermore, rugged tablets are capable of getting wet without ruining the technology and shutting down the tablet. Tablets are manufactured to withstand extreme weather conditions such as hot environments, and back-lit screens that can easily be read during daylight hours or dimmed for evening use. These features improve the customer experience and process efficiency.
Tablets are currently the focal points of many advancements in the cruise industry. The industry has seen how rugged tablets for cruise ships have revolutionized the cruising experience. Cruise lines are eager to move things forward for their guests making every day at sea count for passengers.
However, if you've never taken a Blue Cruise before, then you're in for a real treat. That's taking a Blue Cruise involves traveling by sea around Turkey, the Greek Islands and Croatia. Go to this website here for more info!