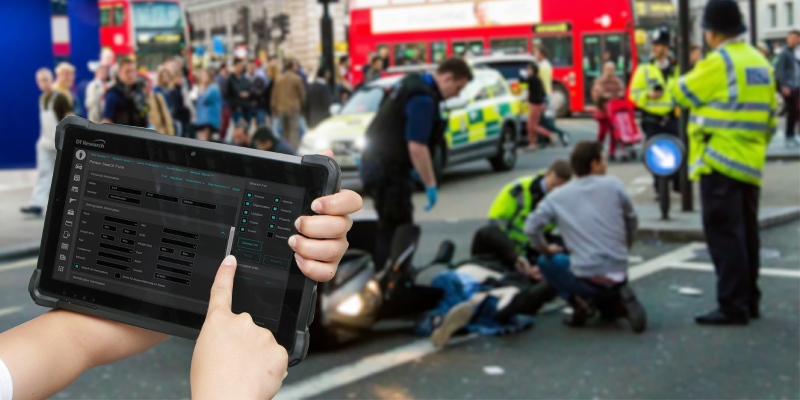 Reviews are in, police departments love DT Research rugged tablets for on-duty fieldwork.
When finding that our purpose-built tablets are being used by the US Navy, police departments feel comfortable knowing that DT Research rugged tablets are built military tough and that they can be an asset to a police department.

The DT Research rugged tablet makes any place in the field of an office. Law enforcement can check plates, write citations, create reports, check and serve warrants all from this portable device. Whether using the tablet in the car as a mounted tablet or handheld during a stop or at a scene, this mobile device goes where you go, making it easy to complete work in the field without having to take reports back to the office to be filed.
3 Reasons Police Departments Love DT Research Rugged Tablets
1. Touch screen
The bigger touch screen makes the data easy to read and easy to use. The backlit touch screen makes the tablet easy to use during the day and at night. Screen brightness can be turned up to combat a dark screen in the sun or turned down at night to reduce screen brightness. Compared to a laptop which requires the use of a mouse or keyboard, touchscreens improves the speed of entering information and critical data.
2. Software Integration
Rugged tablets integrate well with software programs crucial for the success of the force. Computer animated dispatch mapping software integrates directly with the tablet, making it easy to dispatch field-units in real-time. This also allows dispatch to see real-time ETAs and alerts.
3. Durability
One of the best features of the DT rugged tablets for police departments is the durability of the tablet. They can take a pounding and still work just fine. They can be taken into the field on duty and if dropped or taken into extreme conditions the rugged tablets will continue working. Our purpose-built tablets are also built for extreme weather conditions both hot and cold.
When duty calls, we answer that call with rugged tablets built to withstand the job requirements. Manufacturing each tablet with a purpose and job responsibilities in mind. Rugged tablets can be used in the car with a vehicle mount on the dashboard, taken into the field for pictures of an accident, used with a drone to capture instant scene maps, and used to file reports or document a new case.