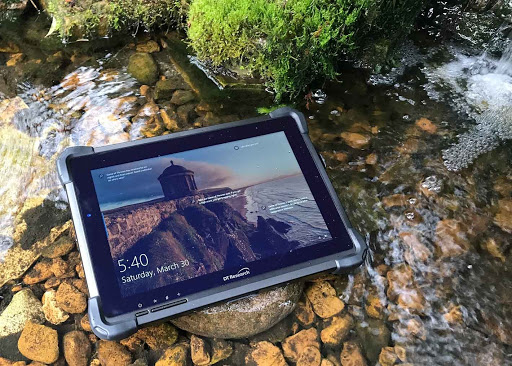 Speed is an important quality in mobile computing, especially in a business setting. Speed determines the timeliness of important business matters such as document processing, signature retrieval, and real-time communication. The extra cost of doing business when a device is running slow could cost a company thousands of dollars in downtime. Purpose-built computers have a need for speed to keep business operations functioning at the highest level.
The implementation of rugged tablets in various business applications means there is a consistent balance between performance, cost, battery life, size and weight of the tablet, and above all, speed.
DT Researchs DT301X tested with the highest speed by Rugged PC Review among several other rugged tablets. In this review it was determined that our tablet had the highest CPU (central processing unit) the brain of a computer. Our tablets were tested in processing power for graphics, memory, 3D graphics, and disk. Our tablets passed the test ranking the highest in speed three times to prove accuracy. DT Research rugged tablets have an incredible built-in core processing power, allowing you to gain access to data, work, and applications quickly.
DT Researchs rugged tablet provides the perfect combination of speed and performance that is built-in to the tablet which allows it to function at optimal levels in any industry including shipping, logistics, warehousing, manufacturing, field service, transportation, construction, law enforcement, fleet management and other tough work environments.
No more waiting when documents need to be downloaded or signed. For example, when a shipment is delivered to a warehouse, the delivery needs a signature. The longer it takes for documents to pull up on a tablet means the next delivery is delayed by that amount of time. A rugged tablet with fast processing speeds will quickly retrieve documents, allowing them to be signed and processed quickly, allowing the driver to return to the next delivery quickly with little to no downtime. With LTE speeds up to three times faster than most 4G LTE devices, advanced Wi-Fi and Bluetooth technology, DT Researchs rugged tablets ensure that you stay connected whenever and wherever you are – improving process efficiency and workflow.
In a warehouse setting, many tasks need to be completed at once, therefore a warehouse worker may have several tabs open at once on their rugged tablet. On a normal tablet, this could slow down the systems making it harder to retrieve data. With a fast processor, many tabs can be open at once without slowing down the computer speed. This allows for more work to be done, quicker.
Rugged tablets are an important business tool across a diverse number of industries. They have totally revolutionized how construction, transportation, law enforcement, logistics, manufacturing, field services, fleet management, and medical industries conduct business. The investment in rugged tablets is one that pays back by increasing the speed of a business in more ways than one. Rugged tablets help various companies stay competitive and manage their workflow quickly and efficiently.