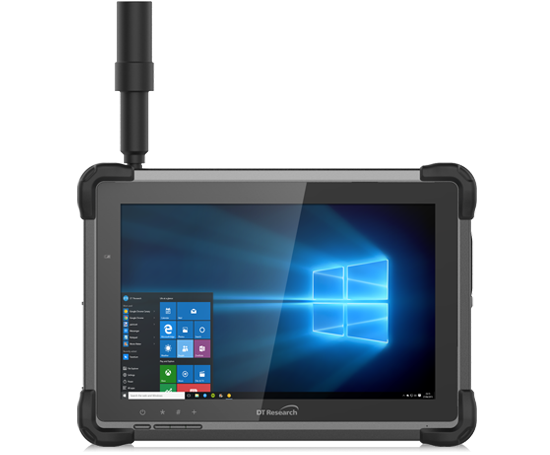 GNSS which stands for Global Navigation Satellite System is the conventional term for satellite navigation systems that furnish autonomous geo-spatial positioning with global coverage. This term incorporates, for example, the GPS, GLONASS, Galileo, Beidou and other regional GPS systems. The first system was developed primarily for military operations, however, it quickly found its way into numerous civilian applications such as in agriculture, mapping and GIS, utilities and government, engineering and construction, and transportation among many others.
DT Research the leading company in rugged handheld tablets offers solutions that are utilized in surveying and mapping with built-in dual-frequency GNSS modules. These purpose-built tablets provide reliable operations and are designed for fieldwork in mapping, geographic information systems (GIS), accurate synchronization, tracking, and networking.
Users can apply the rugged tablet to measure with accuracy a road, utility line, building measurements, project dimensions or land for development. The tablet can also be used to precisely mark locations on a map that is then shared with the rest of the team on that network. GNSS positioning can be done directly with a foldable antenna or by connecting to an external antenna for more robust receiving and survey-grade precision on projects.
Rugged Tablets the Durable Partner for Utility, Construction, and Jobsite Needs:
Dual/Multi-Frequency GNSS Module GNSS L1 & L2 or multi-frequency RTK that receives GPS, GLONASS and GALILEO signals up to 372 channels with RMS 10 mm + 1ppm accuracy.
High-Performance CPU and Windows Operating System Intel 8th Generation Core or Pentium processor with Microsoft Windows 10 IoT Enterprise. Tablets come with either 8 GB or 16 GB of RAM. This offers the highest efficiency and speed. When streaming video or pulling images up, they process quickly to avoid a lag in time in the field.
Brilliant Sunlight-readable Display A 7-inch or 10.1-inch LED-backlight screen with capacitive touch and 1920 x 1200 resolution and sunlight-readable (10) providing a display that is both readable indoors and outdoors. A dim screen for extremely sunny areas and a brightly lit screen for darker for indoor or cloudy weather.
Superior Wireless Connectivity quickly access key data with Long-Range Class 1 Bluetooth, which powers connectivity up to 1,000 feet and 4G mobile broadband for LTE, HESPA+, GMS/GPRS/EDGE, EV-DO, Rev A, and 1xRTT. Making the information a team needs accessible even on job sites without Wi-Fi, this increases the efficiency of processing jobs and inputting or retrieving data.
Superior Storage For ideal field data collection, the tablet can store up to 2 Terabytes of data. Offering enough storage to ensure that applications are always running smoothly and can be accessed from anywhere in real-time.
Military Standards DT Research rugged tablets are fully ruggedized to meet the highest durability standards with an IP65 rating, MIL-STD-810G for vibration and shock resistance and 461F for EMI and EMC tolerance. No matter what the environment is the rugged tablet is the perfect companion for durable, dependable use. Ideal for dusty environments as well as all types of climates extreme hot and cold.
High Capacity Hot-Swappable Battery Pack Delivers 60 or 90 watts for up to 15 hours of continuous mobile communications providing long battery life that lasts a full shift in the field. It also offers hot-swappable battery options, meaning there is no downtime when switching out a drained battery for a fully charged one.
Accessories DT Research rugged tablets are complemented by a variety of accessories, including external antennas, pole mount cradles, detachable keyboards, battery chargers, and digital pens. All of these make the rugged tablet easy to use in the field, at the office or in the truck.
The ability to accurately locate and map out locations is key for effective land surveying, utility mapping and recording precise mapping data for projects. DT Research rugged tablets enable the display of surveying and mapping schematics directly on the device, ensuring intricate and detailed activities are fast and efficient.