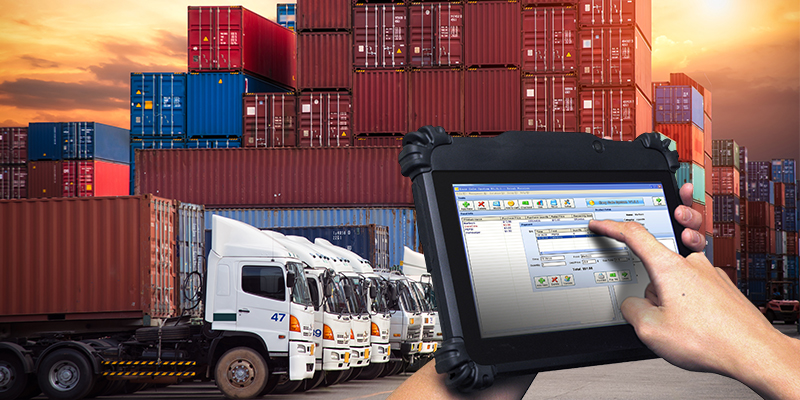 Whether working in a large warehouse or shipping a single product, knowing the dimensions of packages is important to the bottom line. It's imperative that package and pallet measurements are recorded accurately and efficiently.
Shipping logistics functions can benefit by automatic dimensioning of pallets and boxes, measuring cargo and luggage automatically utilizing a mobile rugged tablet. Industrial applications can include 3D scanning and modeling of assets and facilities.
3D RealSense Camera for Exact Dimensioning
The 3D RealSense Camera Systems for Rugged Tablets solves dimensioning problems in shipping logistics. Rugged tablets with integrated Intel RealSense 3D cameras combined with other available technologies offer the perfect solution for on-the-go dimensioning in demanding environments. Not only can boxes be measured, but rooms and trucks can be measured as well. This allows you to make the most out of the available space, by stacking everything in the most efficient way. An additional benefit to using a rugged tablet with a 3D camera is the simplicity of integrating other software and features, such as barcode scanners or RFID readers.
Saves on Shipping and Dimensioning Costs
While a dimensioning station might work for large amounts of products being received or shipped out, they are costly and stationary. Today most shipping companies no longer charge only by weight, but also include the package size in the pricing model. Driving the importance of having all the specifics for packages and shipments communicated to freight handlers in a timely manner to avoid additional fees. Rugged tablets with 3D Real Sense camera aids in warehouse space management and increases workflow efficiencies through fast and accurate to-the-millimeter measurements.
Improving Internal Efficiency
Teams can communicate in real-time through the use of rugged tablets integrated with the 3D RealSense camera. All information uploaded from the camera is automatically uploaded into the network and documented in real-time so many team members can access the data the minute that it is entered. This improves the ability for teams to make decisions as changes occur with shipping logistics. Also inputting information directly from the 3D RealSense camera reduces costs for the company of employees dimensioning products and having to log the information at a later time, thus improving the bottom-line for companies.
In order for your business to get the maximum return on your rugged tablet investment, you need to make sure the solution truly meets the many needs of the business. As your business evolves, your rugged devices should too. That's where a customized solution comes in. DT Research offers various accessories and mobile computing systems suitable for logistics needs.
When you invest in a rugged tablet, you have the ability to get more than just the device itself. You have multiple, additional options that can further enhance productivity and efficiency.