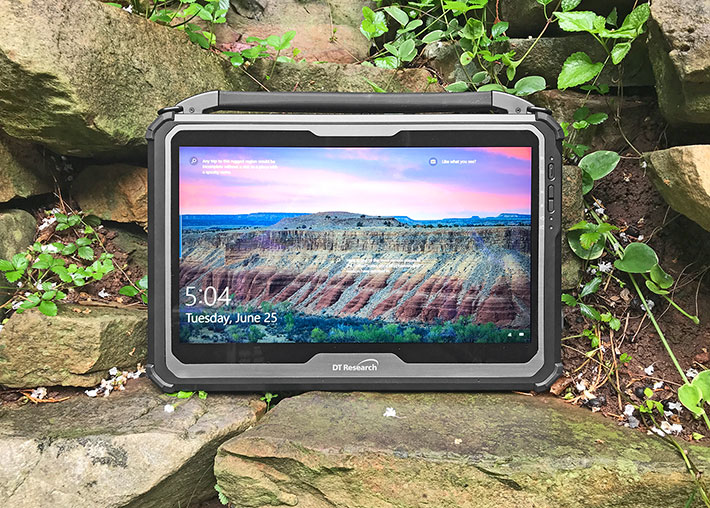 The Bolivia Species Sanctuary, nestled in a green river valley near the town of Coroico, serves as a beacon of hope for much of this country's vulnerable wildlife. Because illegal trafficking is still prevalent in South America, many animals are in serious need of assistance.
Caring for these animals includes not just performing observational enrichment, and construction duties, but also attending to their medical needs, giving these formerly abused animals new hope and a higher quality of life.
Part of the DT Research mission is to assist the community, supporting those that support the needs of society. Animal rescue volunteers needed portable technology that could be taken into the field for rescue missions in harsh environments or away from the WiFi of the city. Our portable, handheld tablets were here to answer their call, here is how:
Veterinary Imaging Equipment
The applications of rugged tablets are endless. Rugged tablets integrated with imaging software can be used as portable digital imaging equipment, helping to capture a lot of information by noninvasive and portable means. Imaging of these rescued animals can be taken on the spot and uploaded to the network in real-time, this allows teams to communicate with doctors or specialists in real-time to problem-solve, triage, or treat injured animals. DT Research's 14-inch rugged tablets offer a wide working area and powerful video and image processing that enhances graphics – and optional NVIDIA GeForce® graphic card for graphics-intensive applications. The screens are capacitive touch screens, with dimmers that allow volunteers in the field to dim the screen when it's dark out or brighten the screen when it's super sunny out making it easier to view the screen no matter what the weather and light conditions are.
Mobile X-rays
X-rays work well for creating images of bones, foreign objects, and large body cavities. They are often used to help detect fractures, tumors, injuries, infections, and deformities. X-rays help determine the cause of the animal's problem, taking an x-ray on the spot helps volunteers and veterinarians determine which other tests may be needed to make a diagnosis or how to best treat the animal or move the animal during a rescue. Mobile X-rays enable veterinarians and rescuers to check injured animals whether in the field, in the jungle, or in the rescue center clinic – recording the data in real-time and making it available to all involved in the care of the animal. Rugged tablets are also equipped with Bluetooth and built-in WiFi that enables communication no matter the location of the rescue. 
Digitized Veterinary Records
Rugged tablets are used by volunteers and staff in recording, collecting data, and analyzing digital records of animals. Retrieving pertinent data with the use of a rugged tablet instead of painstakingly pulling out records or having to physically document information on a location improves efficiency in caring for the rescued animals.  Staff members are no longer swamped with transferring mountains of paperwork into spreadsheets.
Rugged tablets are tough enough to perform in hard and harsh environments, whether in the jungle or in the clinic, making them the ultimate companion for veterinarians giving care for animals anywhere on the planet.