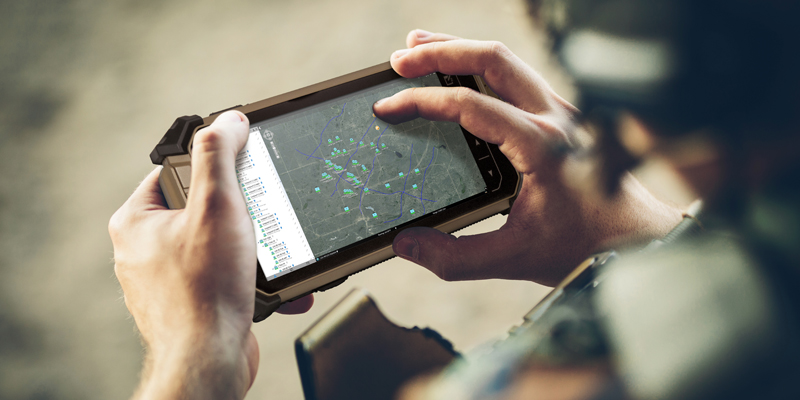 Night vision technology is most known for thermal area searches with binoculars, monoculars, and scopes. Many industries, including construction, medicine, and the military, actively and successfully use systems based on this technology and thermal imaging devices.
The presence of up-to-date technologies and innovative developments blur the line between night and day. Those using night vision imaging systems and night vision goggles are able to see in the dark with the aid of these devices. Military demands for sniper sights, night combat, surveillance activities, and search and rescue were the driving forces behind the development of these devices.
Why DT Research rugged tablets are the ideal tablet night vision solution
NVIS compatible
When viewed through night-vision goggles, the backlights for a usual laptop's display and the indication lamps on the main housing (LEDs!) are so bright, they are blindingly bright. This can be fatal in addition to being distracting. An NVIS-compatible computer has a narrow bandwidth filter that attenuates the frequencies amplified by the night vision system. Wearing the NVS eyewear prevents the filter from seeming like a searchlight since it absorbs infrared and near-infrared light.
Cost-Effective Design
DT Research rugged handheld tablets are built mission-ready. Our military-grade tablets are a powerful combination having both a daylight mode and a night vision mode, without needing additional accessories to carry in the field. DT Research also calibrates the NVIS displays specifically to how the users want to interact with the displays (naked eye or NVG usage). Night vision mode on the tablet means the screen can be viewed by the person in the field, but cannot be seen by others from far distances, even if they have night vision goggles on. 
Black Out Keys
While being able to view the screen of a tablet that is specifically designed for use at night is just as crucial as being able to see it during the day, military personnel still need to be able to connect with their team while on missions no matter the lighting. When they are recording data or corresponding with a team back at the base, the tablet's keyboard's blackout keys safeguard their security. Blackout keys enable soldiers to swiftly and efficiently collect mission data or communicate with their colleagues in real-time without worrying about being seen by the keyboard's illumination.
DT Research military-grade tablets include a robust set of features and options including:
Ultra Rugged – IP65-rated for water and dust resistance; MIL-STD-810H for shock and vibration protection. Temperature operation: 0°C to 50°C (32°F to 122°F); storage: -20°C to 60°C (-4°F to 140°F) and humidity 0% – 90% non-condensing. FCC Class B, RoHS compliant.
Interactive Display with Night Vision Screen – 6 to 15-inch LED-backlight screen with capacitive touch and digital pen support. Optional luminance night vision screen with daylight mode 800 nits; NVIS mode: 0 to 20 or 0 to .7 nits. MIL-STD-3009 Class B compliant, providing clear readability of the display with the naked eye in dark environments and does not interfere with Night Vision Goggles (NVGs).
High Performance and Robust – Microsoft® Windows® 10 IoT Enterprise operating system runs Intel®   10th Generation Core i7 processors with a fanless, robust design.
Smart Card/SD Reader – Built-in, full-slot smart card/Common Access Card (CAC) reader (DT361AM); full-slot SD card reader (DT361AD).
Wireless Communication – Walkie-talkie communication with a built-in speaker and two microphones.
Built-in Wi-Fi 802.11ac, 2.4 GHz/5GHz dual-band, and Bluetooth 4.2 LE.
Vest Mount – Optional vest tablet mount secures the device to a tactical vest and provides hands-free operation and quick access.
Continuous Operation – Hot-swappable battery 7.6V, 3100mAh.
Our military-grade tablets are built for rugged terrain and harsh conditions, withstanding extreme weather climates, drops, vibrations from heavy machinery, and more. Rugged tablets and rugged convertible laptops by DT Research with built-in night vision are the chosen solution for military branches for base logistics as well as field operations.