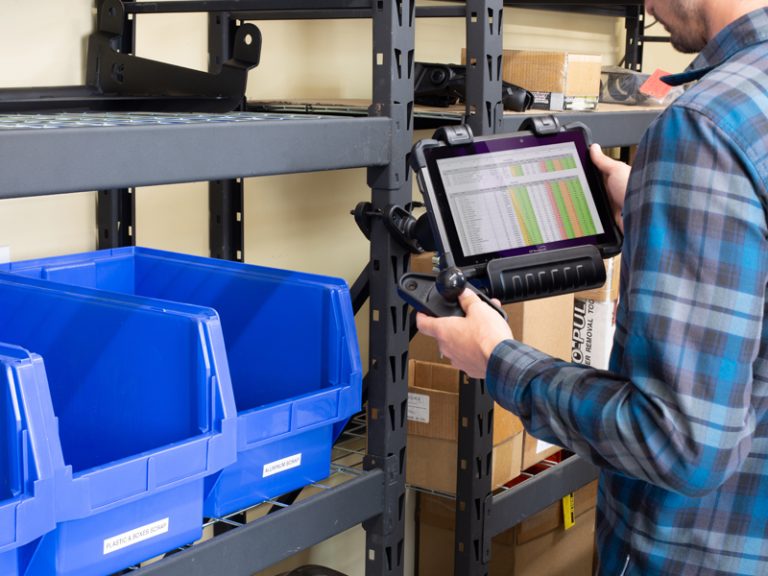 Many people are unaware of how adaptable tablets may be when used for business-specific tasks and operations. Tablets can serve as a portable virtual mobile workstation in warehouse settings, enabling users to manage business analytics, conduct critical operations, collaborate with other staff members, and even operate the equipment.
Here's how to successfully and efficiently use rugged tablets to view what's happening in real time across all business processes, including in warehouse and logistics settings.
Receiving Goods
Rather than having to utilize multiple devices, a rugged tablet is your all-in-one workhorse where data can be captured with just the tablet thanks to integrated barcode and RFID scanning technology.
The use of RFID tags in multi-trip pallets is one of the most promising strategies. The sturdy load carriers typically participate in the supply chain over numerous runs and years, providing insightful information; data from these loads can be collected through RFID tagging and used for more informed decision-making. These pallets can also be used in a variety of ways to gather information because they often handle a wide range of storage and transportation functions, including receiving and sending items and producing items on the warehouse floor. Additionally, the fact that these units are typically utilized in high quantities, or a statistically representative quantity, makes the data collected more reliable.
Shipping Goods
As difficult as it is to track entering commodities, it is also difficult to coordinate exiting ones. Delivery deadlines, yard congestion, and misplaced items and pallets are just a few of the potential difficulties. Again, rugged tablets have several benefits. They can be used by a variety of employees, including those who operate forklifts and others who work on foot, and they enable staff members to scan pallets and assets, reconcile orders, check for accuracy, and send deliveries on their way. Additionally, employees can use a tablet's built-in Wi-Fi technology to stay connected to the production process even while they are outside of company boundaries.
Tracking these goods has never been so simple. Rugged tablets log the information in real-time where it is then stored on the network to be reviewed whenever needed.
Warehouse Security Access
If you are a manager or supervisor, your duties also include monitoring the workforce in addition to keeping your systems maintained and minimizing downtime. The built-in security measures of rugged tablets deter unauthorized individuals. They have an integrated smart card/CAC reader for quick security level access and clearance authentication, limiting unauthorized personnel's access to the warehouse and information. As a result, inventory and data theft are decreased, and every transaction is tracked.
In addition, DT Research's rugged tablets can be integrated with mission-critical enterprise-grade software that is made for managing inventories in warehouses as well as being expandable enough to oversee assembly on a factory floor or oversee maintenance on an aircraft carrier. These dependable rugged tablets provide your team with the full-scale communications functionality they need to connect to a business or military database whenever and wherever they need to.
Rugged tablets withstand harsh physical contact, resist damage from exposure to water, dust, and vibration, and operate in extremely hot or cold conditions. They perform better than consumer devices in terms of processing and memory, thus maximizing accuracy and efficiency.
Rugged warehouse tablets help supervisors and managers keep their fingertips on all the data and the pulse of activities in a warehouse environment. Secure, reliable, and able to survive the harshest of conditions, mobile rugged tablets act as a source of essential information, help motivate the exchange of ideas with workers, and are the best tool for critical situations.