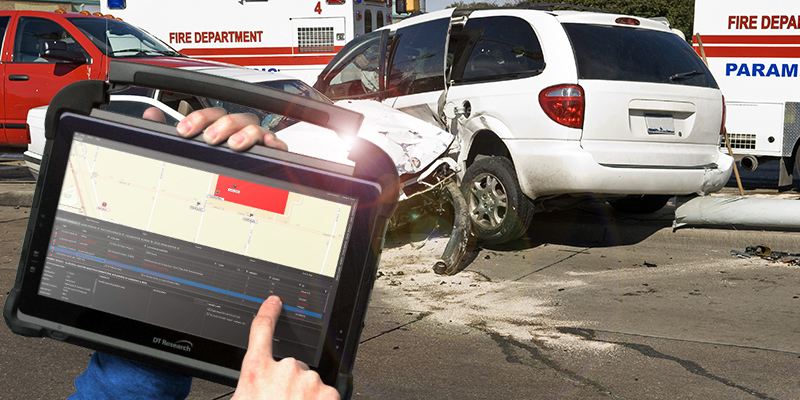 Rugged tablets have been making their way into new industries as the technology of choice over the last several years. One of those industries is the field of healthcare and first responders. As both of these fields have seen an influx of patients, with a need to work faster and more efficiently in the field in order to keep up with the high demand, rugged tablets emerge as a technology that meets the requirements. 
Rugged tablets provide durability and reliability in fast-paced environments. For first responders, one of the most attractive features of utilizing rugged tablets for dispatched calls is the mobility they provide. Rugged tablets for first responders are lightweight which offers benefits to leaving the station in a hurry and grabbing the tablet on the way out the door.
Upon hopping into the vehicle the medical tablet can be mounted to a secure dock inside the vehicle where information about the call can be gathered on the way to the emergency destination. Dispatch can communicate directly with the first responder team and then the emergency room team by sending updates in real-time to the tablet, where first responders can gather needed data before their arrival at the scene.
Medical rugged tablets can withstand the vibration of emergency vehicles, drops, and even spills and continue operating without repairs needed. Rugged tablets are on call 24/7 just as first responders are; with the hot-swappable battery feature there are no lost hours due to the tablet needing to be recharged. 
Hot-swappable batteries make it possible for rugged medical tablets to operate around the clock, when a new battery is needed it can be swapped in real-time without the tablet going offline or shutting down. 
Main Benefits of Rugged Medical Tablets for First Responders
Durability
Ease of use
Mobility
Reliability
Easily Transported
Real-time Communication
Antimicrobial Enclosures
In fast-paced environments, powerful reliable technology is key. Rugged tablets for first responders allow them to work through their shifts with no worries of downtime. Antimicrobial enclosures help to prevent the spread of bacteria and infections ensuring as patients are treated, bacteria do not spread. 
With mobile technology like this, first responders can fully focus on the care they provide their patients, communicate with dispatch and the medical care team at the hospital in real time, and operate continuously during shifts. 
Digital charting, medical billing, insurance verification, and on-the-go patient registration can also be completed directly from the rugged tablet in real time during transport. Having the ability to send over preliminary treatment information to hospitals prior to arrival makes check-in and processing much faster.