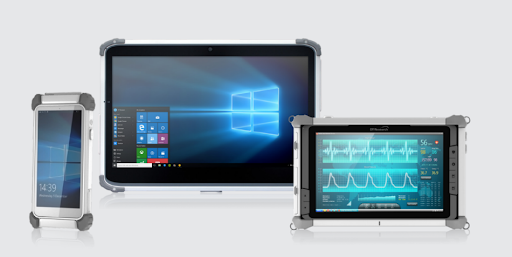 Medical-grade tablets are UL60601-1 certified with antimicrobial enclosures designed and manufactured for healthcare use.  This certification ensures standard safety and essential performance in healthcare environments. Medical tablets are perfect for field medicine use and for telemedicine use in remote locations and across large healthcare facilities.
Healthcare professionals can select from several tablet sizes, from 6-inch to 17-inch, to fit the exact type of care and environment. Medical tablets are reliable, durable, and offer continual operation with their hot-swappable battery option. Slim and lightweight, they can be carried from one patient room to another with ease, or the tablet can be mounted to a cart and rolled between workstations. 
Antimicrobial tablets offer a full-HD front camera and 8-megapixel back camera with built-in speaker, enhancing patient care through telemedicine. Below are additional reasons why medical tablets are the chosen technology for healthcare professionals.
Infection Control
Medical tablets have antimicrobial enclosures which provide infection control. Healthcare professionals can accidentally spread infectious germs from one patient to another when treating patients in different rooms. Infections can be spread by a nurse touching a screen of a computer in one room and then going into another room and touching the computer screen in that room. Though not done intentionally, medical environments can be fast-paced resulting in many reasons why infections could be transferred from room to room. 
Essential Performance
Performance can mean many things in the healthcare industry, especially when it comes to technology. From having the ability to operate fully with no downtime to having strong connectivity with built-in network communication to having an interactive screen with a LED backlight that offers screen brightness that can be increased or dimmed depending on the environment where it is being used.
Reduce bacteria circulation
Effectively adapting to ever-changing environments has been high on the priority list among healthcare professionals over the last couple of years. When rooms became full in a hospital, other floors or rooms had to be turned into make-shift, overflow rooms for treating patients. Also, drive-through facilities for testing became a new necessity for diagnosing and sometimes treating patients. Fanless rugged tablets mean a fan is not circulating airborne bacteria, which keeps healthcare staff and patients from being exposed to infectious bacteria in the air.
Medical tablets reduce the spread of bacteria from technology, no matter the location where it is being used.
Mobility and Flexibility
As mentioned above, mobility has been in high demand within the healthcare industry for many reasons. Medical tablets offer mobility in terms of locations where they can be used, with the ability to be carried from a medical site to a drive-through testing facility easily or to be mounted on a cart and rolled where needed. The rugged 2-in-1 design gives users the flexibility to use the tablets as handhelds or mounted on a medical cart or with a docked keyboard in any healthcare facility, room, or even in makeshift or limited space environments.
Medical tablets offer durability and reliability continuously with no downtime. They are approved for shock and vibration protection. It also offers advanced security options with compliant BIOS, built-in CAC readers, NFC, and RFID scanners, making it ideal for field medical test check-in or ID bracelet verification prior to dispensing medicine. All information gathered on the medical tablet is made available in real-time for all care members with the appropriate credentials to access upon collection of the data.