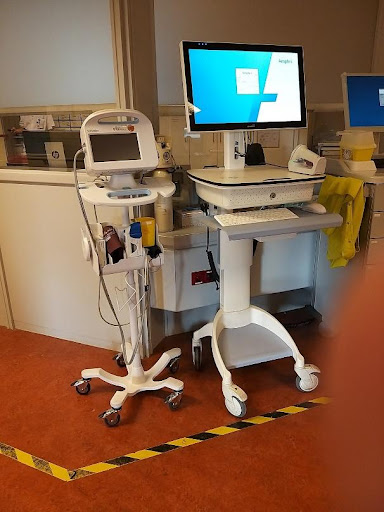 All-in-one medical computers offer a unique, functional design that enables medical facilities from hospital rooms, to nursing homes allowing medical professionals to maximize space in already tight rooms without hindering performance of the job. All-in-One medical cart computers offer a powerful yet energy-efficient Intel® Core™ i processor computing platform, with an easy-to-read display to provide at-a-glance examination to ensure efficient operation. 
Many hospital and treatment rooms contain a lot of required machines that take up space within the room, which can be a challenge when needing to add one more piece of technology for medical professionals to do their job effectively and efficiently.  Introducing the design of the all-in-one medical computer, designed for efficiency, reliability, and dependability. 
The space-saving design makes the Medical-Grade Integrated LCD System easily fit into any point-of-care scenario. Featuring a fanless, slim design that reduces the spread of bacteria, ideal for a tight fitting space such as a hospital room or treatment room. 
Built-In Applications
The all-in-one medical cart computer has built-in WiFi and BT connectivity that enables healthcare professionals to effortlessly and efficiently monitor, record and manage patient data. Another integrated feature into this all-in-one is the built-in smart card/CAC reader which enables advanced security features for medical teams to easily scan in and out of the computer when updating patient records; the optional built-in RFID reader  allows medications and inventory used to easily be scanned into patient records. 
Hot-Swappable Batteries
Reduce the downtime on shifts that often occur from drained batteries. The hot-swappable batteries within the all-in-one medical cart computer results in patient data being managed fluidly without operations being interrupted due to the act of replacing batteries. Batteries can be changed in real-time without disturbing the work in progress on the computer. This feature is ideal for health professionals to manage information and eliminate the need to purchase costly and cumbersome medical cart batteries.
Antimicrobial Enclosure
The all-in-one medical computers come in a bacteria resistant enclosure which limits the spread of germs and viruses from one use to another. The antimicrobial enclosure makes it ideal for various medical and healthcare applications and can be moved from one room to another without cleaning in between and without fear of spreading germs in between the two rooms. 
Features of the all-in-one medical cart computers include:
Built-in 802.11ac dual band WLAN
Built-in hot-swappable batteries
Fanless design; IP65 rated front panel with IPX2 rated enclosure
We offer several models of the all-in-one computers which are equipped with the following benefits:
The 592S/594S
Dual HDMI video-out, up to 4K UHD resolution
Smart card reader
The 581T/582T/584T
Built-in LED reading light
HDMI video-out, support up to 4K UHD resolution
Power supply outputs (to connect other peripherals)
5M front camera
NFC/RFID reader
Smart card/CAC reader
The 502T/504T/507T
4K resolution screen
Integrated UPS battery
5M front camera
Smart card/CAC reader
NFC/RFID reader
The all-in-one medical cart computer is ideal for hospitals and clinics or even make shift facilities for treating patients outside of a healthcare facility. Their slim, lightweight design saves space in crowded medical facilities, while enabling healthcare workers to run an efficient operation.