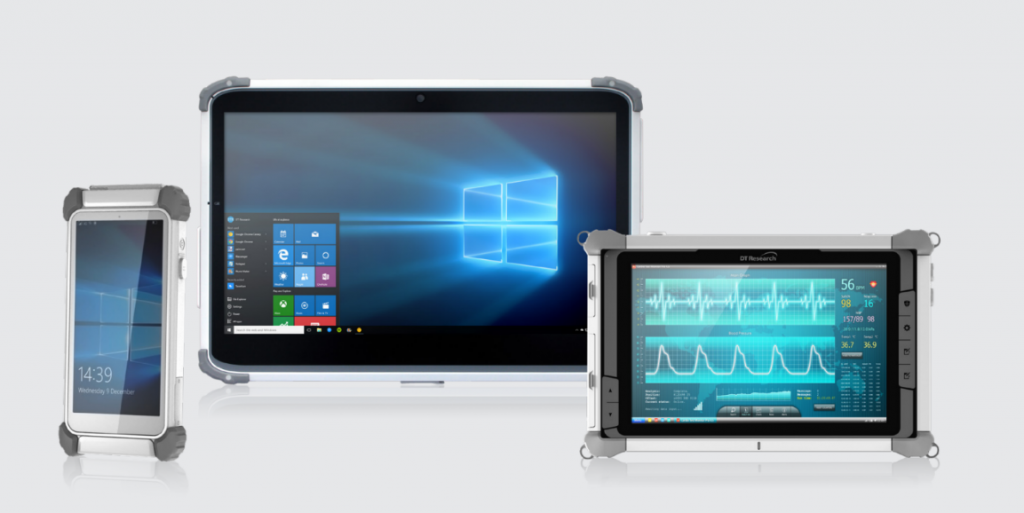 Imagine a high-tech medical tablet thats rugged, fast, and lightweight. High performance, energy-efficient Intel processor in a handheld, portable scale. When going from room to room, seeing patients back-to-back, healthcare teams need something that can easily be carried. But this doesnt mean you have to scale back on quality. This makes it easier to document patients as well as have large, clear images for telehealth services. Healthcare teams need something reliable and durable no matter what the environment they are working in.
DT Research designs and manufactures high quality, durable medical tablets that assist the healthcare industry with current challenges to enhance patient care and improve internal operational efficiency. We have three options available for the many needs of the medical community.
Handheld Ideal
The 362MD Medical Tablet features a 6 capacitive touch screen and energy-efficient Intel quad-core processor. This rugged medical tablet also comes with a smart card reader, back camera, Bluetooth, and Wi-Fi. You need to be able to record and retrieve patient data, and quickly. This is a lightweight, mobile option that can easily be transferred between stations and rooms without risking quality and durability. If youre comfortable with a tablet thats the size of a smartphone, put this one in your pocket! This tablet is perfect for quick patient visits to give medicine or update vitals and can be used later when doing an inventory check.
Slim and Medium-Sized
A slightly bigger screen option that is still slim and lightweight would be the 301MD 2-in-1. This medical tablet offers a brilliant, 10.1 screen and is the perfect combination of screen size to weight and performance. The core processor is slightly different from the 362MD as it integrates the Intel i series processor. It comes with the same features as the previous model along with an optional 4G LTE and docking keyboard. This tablet is great for carrying and a great in-between when you want a screen thats not too big, but still holds a wide frame of detail. This tablet is perfect for putting on a slim cart to roll around from station to station or room to room.
If You Need to Scale Up
For a wider work area, the 313MD Rugged 2-in-1 Medical Tablet may be a perfect fit! It has everything, and holds a detailed application interface to enhance experience and workflow. This tablet is great for enhancing telehealth services because it has a larger screen to see images or to see patients on video. This workstation is also perfect for putting on a cart to roll from room to room. Enhancing telehealth services as well as being compatible with popup testing sites making it easy to treat patients outside of a room environment.
Whatever option you choose, we guarantee a fast, reliable processing system and crisp picture. Our medical tablets are some of the best in the business, in demand by the healthcare industry. We want to ensure that you get the highest level of detail to get you the information you need. As someone in the medical field, you need a fast, durable, and portable tablet. No detail or image can be fuzzy when youre needing to deliver results. Its important to be in the know at all times, and our tablets help you achieve this.
Go to DT Research to learn more about medical tablet options.