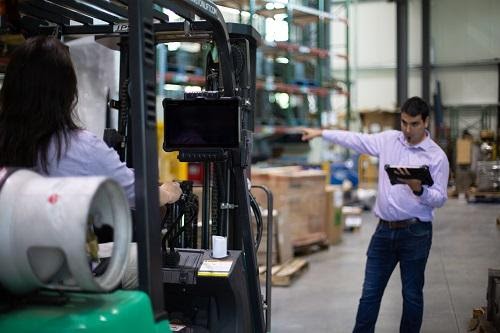 Manufacturing logistics are embracing technology like never before; what would have taken years to implement is now taking months due to the rapid changes caused by COVID-19. Companies are embracing automation, new software, AI, and 3D technology for scanning products and packages. Rugged tablets for the manufacturing industry are helping aid these rapid changes, helping teams improve internal operation efficiencies and communication.
Rugged tablets integrate with automation, 3D scanning, and AI initiatives. Data entered into rugged tablets record in real-time, thus improving internal communication between departments such as production and shipping. These portable, handheld computers are built tough with durability that withstands harsh environments such as the production floor, extreme temperatures that may happen during manufacturing or shipping, or forklift and vehicle vibration while scanning products on the floor or on the truck.
3 Benefits of Rugged Tablets for Manufacturing:
3D Scanning: Rugged tablets integrate with the 3D RealSense camera that offers real-time scanning of a package sitting in shipping or on the manufacturing floor. This 3D camera scans the package for exact dimensions and weight for precise shipping; it also has the capability of imaging what is in the package and the condition it is in to better prevent lost packages and record damaged inventory at the point it was damaged. All data is logged into the network immediately so all departments can access the information when needed.
Long-range RFID Scanning: Packages placed on high shelves waiting to be shipped need regular inventorying. In the past, a team member has had to go around the manufacturing floor with a lift to bring items out and scan the package label. Rugged tablets for manufacturing have a long-range RFID tag scanner that allows someone to sit in a forklift on the floor and scan the package labels for inventory. This increases the safety of employees while reducing the amount of time it takes for inventory tasks to be done – saving the company time and improving safety. 
Automation Integration: Rugged tablets integrate seamlessly with software systems that can be downloaded onto the tablet to automate aspects of manufacturing logistics. Rugged tablets also integrate with AI software for better tracking and improved planning. Automation is becoming one of the fastest-growing trends in manufacturing in order to keep up with customer demand given the world has increased online ordering. Rugged tablets make it easy to integrate seamlessly to improve internal operational efficiencies. 
Investing in rugged tablets for the manufacturing industry aid the process of advancing technology within internal operations, making it easier to seamlessly transition as demand speeds up and logistics departments need to keep up with the increase of products being manufactured, stored, and shipped.