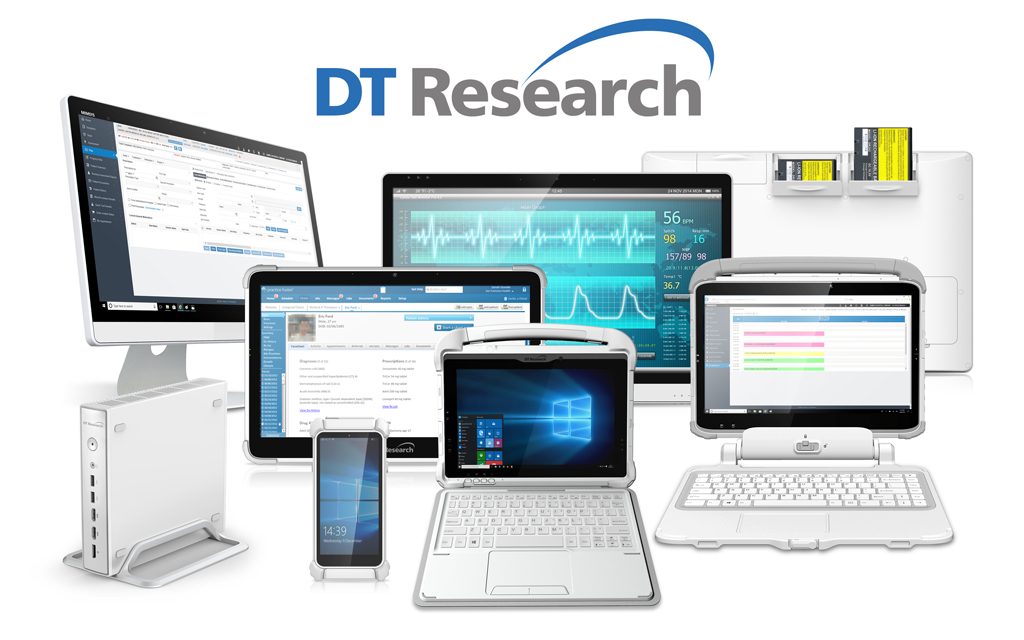 Dedicated systems are now being used by hospitals around the country to enhance response times and focus more on patients. Quality medical computers are only going to become more important as time goes on in terms of providing quality care.
Medical Cart Computers
Medical cart computers, sometimes known as mobile workstations, allow medical workers to move their computers from one patient to the next and from one place to another as needed. Using non-powered medical carts allows the use of lighter models,  as battery power comes from the computer itself and also powers printers and other devices on the cart.
They also enable automated drug distribution, reducing the risk of providing incorrect medication. Medical cart computers may be appropriate in many circumstances, and budget-conscious administrators are often on the lookout for budget-conscious solutions.
The medical cart computers from DT Research support up to three hot-swappable batteries that are complemented by multiple battery chargers so fully-charged batteries are always available and front cameras for remote virtual care needs. Hot-swappable batteries that run low on power may be replaced without turning the machine off, allowing personnel to use lighter non-powered carts without being attached to a wall outlet and providing 24/7 uptime.
Medical Grade Tablets
DT Research also offers a variety of medical tablets in a variety of sizes and configurations to fulfill the needs of hospitals, healthcare facilities, and medical equipment companies. We have a variety of medical tablets designed specifically for healthcare workers, including six-inch, ten-inch,  thirteen-inch, 15.6-inch, and 17-inch tablets, all offering built-in cameras to help with telehealth appointments, conferencing, and case documenting, several with smart card reader, and other optional data capture tools such as barcode scanner and RFID/NFC reader.
The healthcare business is adapting to new technologies, with old technology being phased out in favor of newer, more reliable equipment. The best medical tablets for healthcare should have the following features: power and mobility, resistance to pathogens and water, medical certifications to protect the patient, and simple, intuitive use.
Medical Grade Monitors
Medical touchscreen monitors from DT Research are built to withstand the constant demands of the healthcare industry. Depending on your application, the capacitive touchscreens monitors can be self-sustaining battery-powered or powered by a plug-in power port as needed. The safety of patients and clinicians is prioritized in the design of all of our medical computers and monitors. These medical computing solutions have UL/EN certifications, indicating that they meet the strictest medical safety requirements.
Medical Micro PC
With Intel 10th generation Gold or Core i processor, this compact, powerful computer brings clean-sensitive and space-saving data management to healthcare. The display outputs and various ports make it easy to pair with many systems and important health devices, and the optional antenna boosts reliable communication.
Medical grade computers from DT Research are designed specifically for a wide range of healthcare-focused applications. The wide range of computers are protected by fanless designs, hot-swap battery options, a touch screen, and antimicrobial technologies built into the shell. Front cameras enable telehealth solutions, and several ports and power-out support connecting computing solutions and peripherals such as printers and temperature readers. 
For easy cleaning and disinfection, all of our medical-grade PCs and monitors are IP65 sealed and water-resistant. To protect its housing from microbes, our medical panel PCs, tablets, monitors, and micro PCs are antimicrobial.