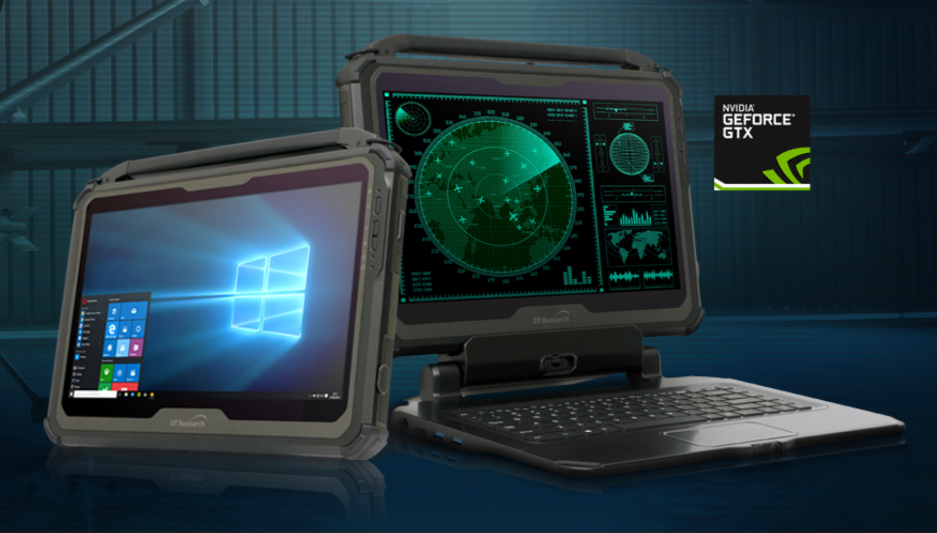 Rugged tablets aid the workforce of many industries. There are endless reasons companies are investing in rugged tablets, however, it is important to note that not all tablets are created equal. Identifying the needs of your organization and matching those needs with features on a tablet, ensures you make the right investment for your teams needs. Some companies try to place consumer-grade tablets into their work environment only to find they break easily, maintenance costs are high and they are not built for durability. Whereas, rugged tablets are mobile, durable, and lightweight enough to carry on the job and use in the office.
Industries such as construction, warehousing, logistics, utilities, military, law enforcement, first responders, and healthcare need purpose-built tablets that are designed to withstand the working conditions and environments. DT Research believes in building tablets to target the industry and job not just to make a general tablet. Our rugged tablets are designed to resist harsh environments and rough conditions. When a company needs to invest in a purpose-built tablet that wont get easily damaged easily then we have a solution for you.
In this blog, we highlight DT Researchs rugged tablet features and what makes them the most advanced rugged device on the market.
Flexibility and Adaptability
DT Researchs rugged tablets are utilized in a number of industries from construction to the military to healthcare and offer a wide variety of applications, many of these applications specific to the industry and job roles and responsibilities. However, what separates our tablets from others is their capability to target specific needs we listen to our customers and take feedback based on the responsibilities of the job, required functionality, and use in the field in order to deliver tablets that perform well and last long-term. We believe investment in tablets should last many years, with as little maintenance costs as possible. Our rugged tablets offer a variety of options tailored to meet the needs of the industries we serve.
Durability and Military-Grade Standard Tablets
From a user perspective, ruggedness describes a computers ability to operate in any type of exposed working condition, not just for a single-use, but for years to come. Depending upon the type of work performed, however, what is rugged for one user may not be rugged for another. Ruggedness is defined by testing environmental specifications. DT Research tablets adhere to military-grade standards of ruggedness, ranging from extreme temperatures to wet and dry conditions to dusty or dirty environments. They are designed to withstand drops, vibration, and even water spills. Our tablets are designed with IP standard ratings. Many of our rugged computers are IP rated, with IP65-rated they are waterproof and dustproof and MIL-STD-810G certified for vibration and shock resistance.
Screen Readability and Capacitive Touch Screen
DT Research rugged tablets have a non-glare screen which makes the tablet screen readable both indoors and outdoors. Its backlit screen option allows the user to brighten the screen for daytime use and darken the screen for nighttime use. Some tablets also feature night vision, making the screen useable with night vision goggles while being hidden from others. Its screen is also designed to pick up on touch movement in both cold or hot conditions and can be used as a touch screen with fingertips or with a pen accessory to easily enter information while in the field. Screen sizes vary depending on the need, we offer a compact 6-inch tablet for jobs that need lightweight, ultra mobility or a large 14-inch screen for jobs that need intensive graphics.
High Performing Processors and Operating Systems
Seamlessly integrate business applications and systems with the tablet and never expect a lag in your device as each tablet is equipped with a high-performance Intel processor, whether its dual or quad-core processors. Our tablets integrate with either Windows or Android operating systems.
Secure Clearance and Built-In Camera
DT Research rugged tablets can be ordered with a built-in RealSense 3D camera, front and/or back 2-8mp cameras, smart card reader, RFID reader, long-range Bluetooth, and/or barcode scanner. These all aid each industry in different ways. For construction and utility projects the 3D RealSense camera can be used to go into tight spaces or dangerous areas where team members dont go in order to document or check for maintenance needs, broken pipes, etc. In healthcare, the camera is used for appointments in being able to document and diagnose patients and for telemedicine and field hospitals.
For warehousing and logistics, the RFID technology and barcode scanner streamline documentation and shipments tracking, improving workflow and efficiency to process an increased number of shipments. This also allows for the ability to scan items in a warehouse that are stored far away and scan an entire crate to read all tags inside to verify all contents.
For military, government workers and healthcare professionals; smart card readers allow team members to access data within the network in real-time, improving security as personnel login with their card with the appropriate credentials programmed to access only specified information on the tablet, allowing for data to be secure but also available when and where needed.
Accessories for rugged tablets improve the flexibility and placement and include charging cradles with additional ports and screen connection, keyboards, extra batteries, and battery charging stations, vehicle mounts, vehicle chargers, and pens for the touch screen. Whatever the need, weve designed the tablet to ensure optimal functionality and mobility.
We are always listening to our customers and integrating their feedback into our newest models to improve their overall experience. No matter what industry you serve, we have a rugged tablet solution for you!