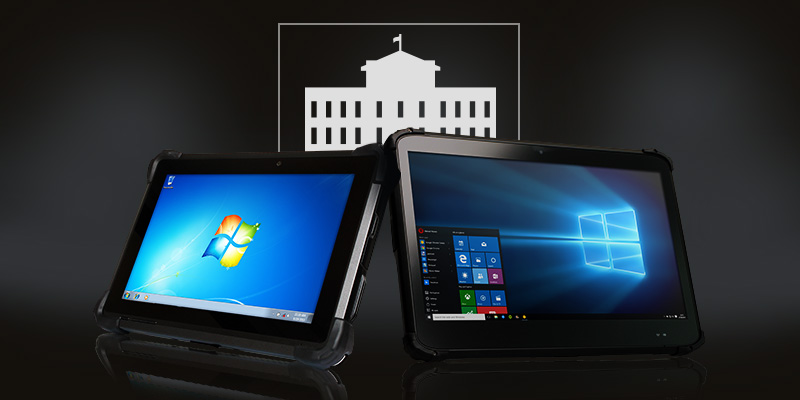 As the public and private sectors move towards mobile, digital, and analytical processes, the government sector is poised to take advantage of athe single most useful tool available in recent technological history the rugged tablet. The benefits of handheld, durable devices with superior computing power include:
Security. With closed networks, rugged tablets are some of the most secure devices available to those who require high levels of security to operate. The ability to install security measures for both manual access and potential wireless hacking are a large part of why tablets are overtaking smartphones as the secure device of choice. Card access, pin codes, and even biometrics can be utilized to enhance appropriate accessibility on the fly.
Smarter Processes. The software options available for rugged tablets make them the best choice for those on the move, and the accessibility measures make them the right device for situations in which constant handoff is required. Platforms are constantly being revisited and manufacturers work in tandem with the most used operating system creators.
Real Time Access. When data is required in the field, sooner is better than later. The ability to transfer or enable access to data immediately and share updates and changes makes the rugged tablet even more valuable from a time saving and productivity standpoint.
Data Capture Capability. Data entry in the field is fast and easy with a virtual keyboard, a stylus, a scanner or a built in code recognition system. ReduceNo errors by using fully built in data capture rather than transferring data between various separate scanners and readers or less reliable snap-on toolson paperwork, and records can quickly be checked and matched with offsite inventory counts.
Compatibility. The ability to work between old tech and new, easing the transition between outdated PCs and smartphones, while bringing new innovation and tech to life in their field is another major attraction for those now trialing rugged tablets its the bridge device that was needed to connect office workers and field workers on common ground.
Ease of Integration. Finally, rugged tablets are already proven to integrate seamlessly into almost any environment, enabling real-time data access and management as well as business intelligence analytics. Add in fully responsive records management, and rapid, informed decision making capabilities for every individual on the team regardless of whether they are on foot, on a forklift, in a vehicle, or behind a desk and you have the ideal computing and data capture device that most managers dream of.
Any government organizations basic process can benefit from the support that rugged tablets and other mobile technologies can drive progress and improve productivity. Its the smart, strategic decision, with a reasonable CAPEX and a solid ROI.